The world's favorite coffee and baked goods chain opens first LEED certified restaurant in Florida, prototype for future green stores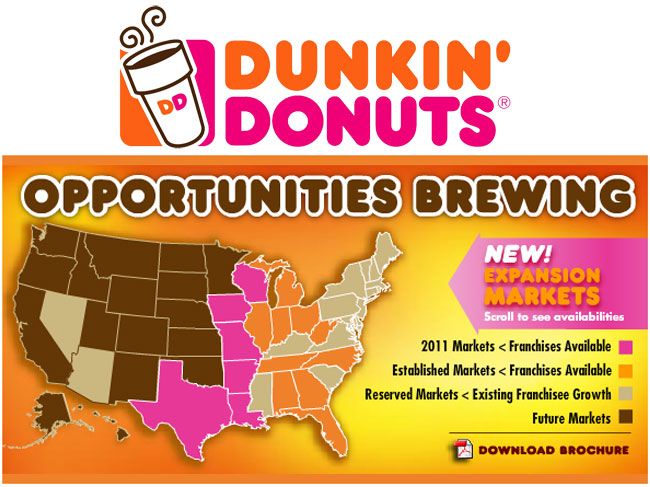 ST. PETERSBURG, Fla.
(October 17, 2008) - Dunkin' Donuts, America's all-day, everyday stop for coffee and baked goods, is celebrating the grand opening of its first "green" store today. The St. Petersburg, Florida restaurant is Leadership in Energy and Environmental Design (LEED) certified and includes other "green" initiatives such as innovative recycling programs like worm casting and food donations to the local food bank. Dunkin' Donuts President & Chief Brand Officer Will Kussell will join St. Petersburg Mayor Rick Baker, the United States Green Business Council (USGBC), and the St. Petersburg Chamber of Commerce to celebrate the store opening by planting a tree on-site, located at the corner of 4th Street North and 76th Avenue North.
"At Dunkin' Donuts we are committed to growing our business in a way that is both achievable and sustainable for our company, our franchisees, the communities we proudly serve, and the environment, said Kussell. "With the opening of our first LEED certified store in St. Petersburg we look forward not only to playing an important role in the daily lives of the people who live and work here, but also applying what we learn in this store to Dunkin' Donuts overall, as we continue to evolve the brand."
LEED certification is widely recognized as the standard for "green" construction in the United States. The LEED rating system sets forth specific criteria that constitute a "green" building and LEED certification provides third-party verification that the criteria have been met. The United States Green Building Council created the LEED Green Building Rating System, a voluntary point-based rating system used to certify buildings as "green."
The St. Petersburg LEED certified store is a first for Dunkin' Donuts, which broke ground in May 2008, and will serve as a prototype for future green construction projects as well as enhance future building models. The St. Petersburg restaurant is built in the Dunkin' Donuts flagship model design and features numerous LEED enhancements, including: energy-efficient insulated concrete foam walls to reduce air conditioning usage by approximately 40%, energy-efficient lighting, including motion sensors for restrooms and offices, water-efficient plumbing fixtures, low-flush toilets, and the usage of well water rather than potable water for all irrigation.
In addition to these significant LEED enhancements, customers will notice other "green" features at the St. Petersburg location including:
Recycling ? On-site Earthworm Casting facility, a collaboration between Dunkin' Donuts and local company Mother's Organics. The solar powered tank houses 80 lbs. of small red earthworms that will eat the waste produced by the store, such as coffee grounds and paper products. The worms' waste will then be converted into fertilizer for local farms and gardens.


Reusable Mug Program ? Customers are encouraged to bring their own mug, and will receive a discount toward the purchase of a beverage.


Paper Hot Cups ? Hot drinks are served in paper cups made from renewable resources.


Food Donation ? Leftover baked goods are donated to America's Second Harvest, a local food bank.


Green Cleaning ? Cleaning products meet LEED requirements and California Air Resources Board (CARB) standards, better for the environment and customers.
"We are proud to have Dunkin' Donuts' first ever LEED certified store in St. Petersburg," said St. Petersburg Mayor Rick Baker. "We have the first city in Florida to be designated a Green City, and I salute Dunkin' Donuts for embracing our efforts to create a sustainable future for our families."
The opening of the first LEED store is part of Dunkin' Brands' ongoing and increasing commitment to its Corporate Social Responsibility (CSR) platform, which covers four main pillars: Philanthropic, Social, Economic, and Environmental -- each pillar is associated with specific goals, including serving those who serve in our communities, embracing diversity and inclusion, sustainable development of products and materials, and volunteerism. Today's store opening is the latest example of Dunkin' Brands' community commitment come to life.
###
About Dunkin' Donuts
Founded in 1950, Dunkin' Donuts is America's favorite everyday, all-day stop for coffee and baked goods. Dunkin' Donuts is the #1 retailer of hot and iced regular coffee-by-the-cup in America, and the largest coffee and baked goods chain in the world. Dunkin' Donuts has earned the #1 ranking for customer loyalty in the coffee category by Brand Keys for two years running. The company has more than 7,900 restaurants in 30 countries worldwide. In 2007, Dunkin' Donuts' global system-wide sales were $5.3 billion. Based in Canton, Massachusetts, Dunkin' Donuts is a subsidiary of Dunkin' Brands, Inc.
SHARE: