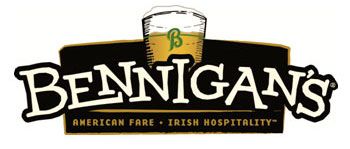 Since taking the helm at Bennigan's in 2011, Paul Mangiamele has championed several game-changing initiatives aimed at revolutionizing the casual dining category and bringing the iconic brand back to its Legendary status. As chronicled in his 2013 book, Bennigan's Return to Relevance: Bleeding Green 25/8, Paul has helped transform the organization through a focus on chef-driven food, innovative drinks and a commitment to delivering memorable dining experiences to every guest, every meal, every day. As of mid-2014, Bennigan's has signed franchise agreements in place that will more than double the chain's size worldwide over the next few years.
During his 30-year career, Mangiamele has served as President & CEO of Salsarita's Fresh Cantina; President & CEO of Dalts Classic American Grill; Vice President of Business Development for Carlson Companies; and Executive Vice President and COO at Sport Clips. Mangiamele is a frequent guest on local and national television programs, and is in high demand as a business speaker and turnaround expert.
Please answer the following questions:
1. Tell us about the Bennigan's concept.
Bennigan's is a high-energy neighborhood restaurant and tavern that is redefining casual dining. We focus on chef-driven food, innovative drinks and warm, friendly Irish Hospitality, and our commitment is to deliver memorable dining experiences to every guest, every meal, every day. There's no restaurant that's ever captured the essence of Legendary Irish hospitality like Bennigan's, and that's why I think people are so happy when they hear that we're back.
2. How and when did you become involved with Bennigan's?
I was hired as CEO in the spring of 2011 with the charge to lead the brand back out of bankruptcy and to make Bennigan's relevant again. Since then, my outstanding team and I – working with dozens of exceptional franchise partners around the world – have built our chain back up to nearly 100 restaurants, with many more in the pipeline both domestically and overseas.
3. What are some of the advantages in being a Bennigan's franchisee?
First off, we provide an intensive, eight-week training course for all new franchisees and their managers. Everyone is immersed in our operational processes, culture, food preparation and other proprietary practices. Once this is complete, our franchisees are ready to hit the ground running. From that point on, our outstanding corporate team provides on-going support from marketing to operations to employee training, and more. Ask any of our franchisees and they'll tell you…we do it right.
4.
Who is your ideal franchisee?
We look for franchisees that buy into our vision of providing memorable dining experiences to every guest, every meal, every day. We expect them to "bleed green 25/8," which means they must truly live Bennigan's. I'm not talking about the same old tired 24-hours-a-day, seven-days-a-week metaphor. It's bigger than that – it's all day, every day, and then some, so that you do whatever it takes to make the brand succeed. That, above all else, is what we look for in prospective franchisees.
5. Tell us a little about the Casual Dining Industry?
Conventional wisdom among today's restaurant industry pundits is that casual dining chains are destined for the history books, squeezed out of the marketplace by polished casual brands from above and upstart fast casual concepts from below.
Bennigan's begs to differ.
We introduced consumers to casual dining nearly 40 years ago, and we've recently returned to our roots to redefine the segment. With our dedication to innovative, chef-driven food, signature cocktails and Legendary guest experiences, Bennigan's has differentiated itself from our competitors and carved out a successful niche in today's restaurant landscape.
We are the antithesis of today's casual dining brands that are resorting to gimmickry to drive traffic. Rather than cutting back on quality and raising prices, we take pride in continuing to serve up our made-from-scratch Irish Tower O'Rings, World Famous Monte Cristos, Turkey O'Tooles and other signature items that our guests have always loved. We've held the line on prices and never compromised on our guest service.
6. What are some of the greatest lessons you've learned in growing this franchise?
First off, when you serve freshly made food and drinks in ample portions, there's no need to sacrifice your integrity with all-you-can-eat stunts or excessive couponing, as some of our competitors are doing. Customers will remain loyal if you stay true to your brand and give them a memorable dining experience every meal, every day. That includes the delivery of excellent service, something that has slipped in most full service brands. Our value proposition is arguably the best in casual dining because our focus is on the experience, not the transaction.
It's also imperative that you treat your franchisees as partners, because the company's success is contingent on their success. Go over-and-above on training, corporate guidance, marketing support and anything else they need. It's rough on the front lines, and every local market is different. Recognize that, be responsive to that, and you'll form a mutually rewarding partnership.
Finally, be constantly reinventing – whether that be refreshing your menu, remodelling older locations, or challenging your staff and franchisees to think outside the box. The restaurant industry is as cut-throat as they come.
Our franchisees are galvanized by our positive and open communication, world-class support, collective and participative leadership and a keen focus on continuously improving our marketing, operations, supply chain, menu, unit economics and profitability.
7.
Do you have a mentor and is there someone you use for inspiration?
That would have to be Norman Brinker, who founded Bennigan's in 1976. He was a seasoned restaurateur who had a vision to take advantage of what he perceived to be an opportunity between fine dining and fast food. At the time, there was a huge separation between the fast food, low-cost players, such as McDonald's, Burger King and Wendy's, and the full service, fine-dining players like Morton's, Spago and the French Laundry. There were a few independents in this space, but not many chain players. Norman's idea was to bring families into the dining equation rather than just focus on the bar traffic. He'd keep the moneymaking aspects of the full bar but within the atmosphere of a full-service restaurant with a full menu that offered something for every member of the family. From this vision, Bennigan's was born. Norman also went on to lead Chili's, On The Border and several other successful concepts.
I have always admired Norman's vision, his willingness to move into uncharted territory, his tenacity and his focus on providing great service to his guests and great support to his franchisees. Under his stewardship, Bennigan's grew to become a 400-restaurant chain. I would love to take our Legendary brand to that level again.
8. What advice do you have for someone looking to acquire a Franchise?
Do your homework, speak directly to the CEO and his or her executive team and ask lots of questions. Make certain that the franchisor takes the investment of your hard-earned money very seriously and will work hard to deliver compelling returns on that investment.
In addition, try to determine if senior management, including the CEO, was ever a franchisee and has had the experience of investing his or her own money. Nothing speaks louder than having one's own money at risk to indicate the level of respect the stewards of the brand have for their franchisees.
9. In your opinion, why do you think that Bennigan's would be a great opportunity for someone?
How much space do we have?
First of all, there's an intense passion and nostalgia for our brand. Virtually everyone I meet has fond memories of Bennigan's, and most of them never understood why we went away in the first place. Now that we're steadily coming back, and "returning to relevance," the public response has been terrific.
We have so many exciting things going on, it's hard to pinpoint one. For example, we're very excited about our growth plans both here in the U.S. and around the world. Also, we just beefed up our corporate team with several world-class pros boasting more than 70 years of collective experience. We hired them to help us navigate this new period of growth without missing a beat. We've added to our already-extensive expertise in training, customer service, operations and supply chain/logistics. We hired an outstanding new executive chef, and aligned with a cutting-edge architectural firm that will assist our franchisees as they open the next generation of Bennigan's restaurants featuring our revolutionary new prototype design.
We're not kidding around when we say Bennigan's is in the business of redefining casual dining, and we haven't even scratched the surface when it comes to our growth potential. With every grand opening, more and more exceptional restaurant operators contact us about franchising opportunities. It's a virtuous cycle; and the best part is, all those people who loved Bennigan's years ago are getting a chance to come back and experience our great food and friendly Irish hospitality again.
SHARE: