Matt Kneeland, a Sport Clips Haircuts Team Leader (franchisee), was a long-time, successful home medical equipment business owner. But, he says he made the change from healthcare to haircare when government regulations began "forcing businesses like his to consolidate or sell." He says, "Good business people are pushed out because of regulations," and the new laws have "flattened an industry full of leaders." Kneeland started his previous business of renting oxygen and medical equipment in 1996 and grew that business to 12 locations before selling it in 2014.
Kneeland and his wife purchased 10 Sport Clips store licenses later that year and added a new location in 2015. They've since acquired two additional locations in the Fresno, California market and are negotiating two additional leases to open later this year.
He says franchising is a good fit because his business skills transferred directly, and the primary learning curve was becoming familiar with the successful systems Sport Clips has set in place. "In the home medical equipment industry, being an independent, you had to figure out everything on your own," Kneeland says. "That's a big job, and I thought that I'd take a path paved by others this time around." The Kneelands brought with them the tools used in their previous work to run a good business. He says it's worked out well for them because they "don't have the healthcare laws kicking them in the face every day."
Kneeland says he researched the franchise concept that would be a good fit and spent time with Sport Clips team members and franchisees. During that time, he determined the franchise would offer him a great level of support, which he says has proven to be the case, along with a strong network of franchisees he's found in his state of California. Kneeland says tapping into the other franchisees' experiences and successes has had a positive impact, as has the team already assembled at the existing locations in which he invested. He also says the combined knowledge has benefitted both operations and marketing efforts.
As any business-savvy pro such as Kneeland knows, there are challenges in opening a business, even with the support of a seasoned franchise. He advises others:
1) Don't begin under-funded.
2) No business runs itself, so be an active, interested investor.
Kneeland refers to the axiom "the harder I work, the luckier I get," which he says is definitely true in his case. He's working now to grow his management team saying, "The big plus here is that in building this organization, it gives our stylists room to move up and find room to grow their personal careers." Kneeland's goal is to have a dozen Sport Clips locations in central California, and he hopes to reach that goal within the next five years.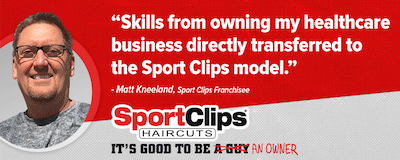 SHARE: