World's Largest Baked Goods and Coffee Chain Plans to Develop Approximately 100 New Restaurants in Greater Minneapolis and St. Paul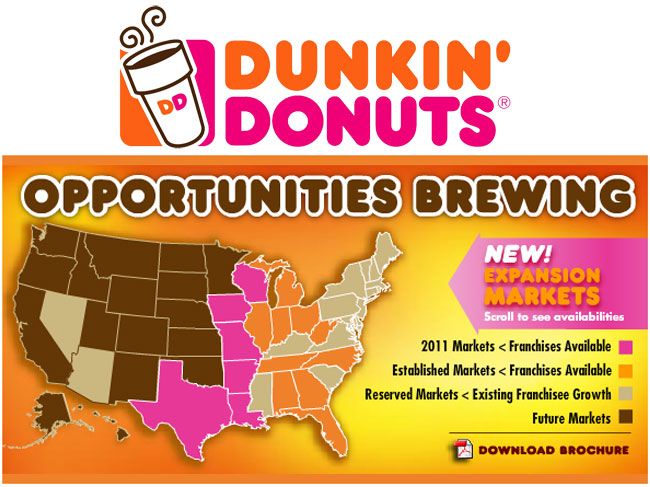 CANTON, MA
(August 7, 2008)-- Dunkin' Donuts, the world's largest coffee and bakery quick-service restaurant chain, is in the midst of a national expansion to increase its franchised locations in the U.S. Fueling this growth is today's announcement that the Greater Minneapolis and St. Paul market is now open for franchise sales with plans to open approximately 100 new restaurants over the next several years. The company's plans call for selling of franchises in Minnesota from Beltrami County to the North; Steele and Waseca Counties to the South; Big Stone and Lac qui Parle Counties to the West; and Barron and Dunn Counties (Wisconsin) to the East., and the counties in between.
Dunkin' Donuts' Twin Cities' launch is part of an aggressive national growth strategy, which includes expanding in existing markets while entering new cities throughout the country. The company is actively seeking large area developers to own and operate a minimum of twenty new restaurants in Greater Minneapolis and St. Paul and throughout the country to help direct the company's future growth.
"To fulfill our national expansion goals, Dunkin' Donuts is looking for developers with a strong organization and the ability to manage multiple restaurants effectively and successfully in the Greater Minneapolis and St. Paul market," said Lynette McKee, CFE, vice president of franchising, Dunkin' Brands, Inc. "We also look for prior restaurant operations and real estate development experience."
Building a network of stores also enables Dunkin' Donuts to invest in a distribution model that ensures consistent, high-quality products that customers expect when visiting a Dunkin' Donuts location. In an effort to keep the brand fresh and competitive, Dunkin' Donuts offers franchisees a variety of designs and venues, including free-standing stores, sites within shopping centers and convenience stores and other retail environments.
According to McKee, Dunkin' Donuts will satisfy a growing demand in Greater Minneapolis and St. Paul for high-quality coffee and baked goods that are available all day. Dunkin' Donuts is proud to energize Americans and keep the honest, hard-working, value-driven people of this country running every day -- whether it's in a boardroom, a schoolroom or a construction site. We look forward to being a vibrant part of the community and playing an important role in the daily lives of the people who live and work in Greater Minneapolis and St. Paul.
Dunkin' Donuts recently launched its new, all-day Oven-Toasted menu. The new platform marks the most significant change to Dunkin' Donuts product lineup since the company launched espresso-based beverages in 2003. The menu items are available nationwide in participating cities.
###
Aout Dunkin' Donuts
Founded in 1950, Dunkin' Donuts is America's favorite everyday, all-day stop for coffee and baked goods. Dunkin' Donuts is the #1 retailer of hot and iced regular coffee-by-the-cup in America, and the largest coffee and baked goods chain in the world. Dunkin' Donuts has earned the #1 ranking for customer loyalty in the coffee category by Brand Keys for two years running. The company has more than 7,900 restaurants in 30 countries worldwide. In 2007, Dunkin' Donuts' global system-wide sales were $5.3 billion. Based in Canton, Massachusetts, Dunkin' Donuts is a subsidiary of Dunkin' Brands, Inc.
SHARE: