Both DC Coffee Kings Inc. and DoJoe, LLC to Open Ten New Restaurants;
One Restaurant Planned to Open by End of 2008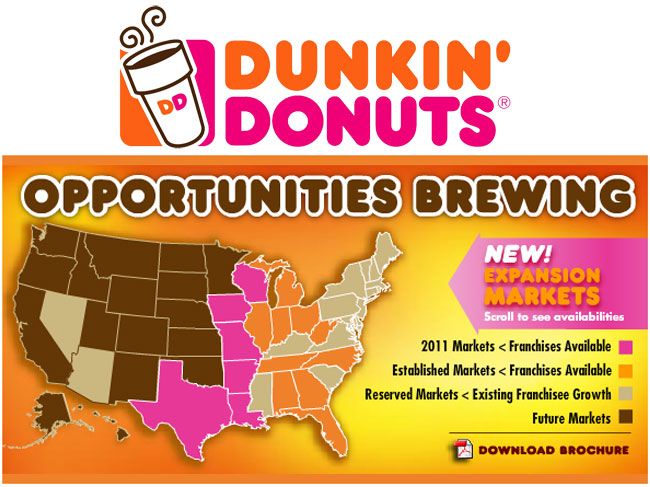 CANTON, MA
(August 7, 2008)-- Dunkin' Donuts, the world's largest coffee and bakery quick-service restaurant chain, announced today the signing of two multi-unit store development agreements. DC Coffee Kings Inc. will develop five new restaurants in the River Front, SE Washington, DC area and DoJoe, LLC will develop five new restaurants in the Silver Spring, Bethesda, Chevy Chase areas. DC Coffee Kings plans to open the first unit in 2009 and DoJoe plans to open one unit in 2008.
In 2006, DC Coffee Kings Inc., managing partner, Ray Omar, service commitment with the Army ended. He then moved to Odenton, MD and began looking into the possibility of becoming a Dunkin' franchisee. In 2005, he began his franchisee career purchasing two Cheeseburger Charley's restaurants in Clarksville, TN and also owns two 10,000 square foot retail shopping centers.
As a military veteran, Ray qualified to be a Dunkin' Donuts' franchisee through the VetFran program, a voluntary effort of the International Franchise Association for member-companies designed to encourage franchise ownership by offering financial incentives to honorably discharged veterans. To date, more than 200 franchise companies participate in the program, including Dunkin' Donuts.
DoJoe, LLC Managing Partner, Adam Goozh, currently serves as the Managing Director of WashingtonVC, a private equity group in Washington, DC. Prior to this, he was the Founder, President/CEO of CreateHope, Inc. (now Truist, Inc.), a software and services company which provides corporate social responsibility and community involvement business outsourcing solutions to corporations, not-for-profit organizations and governmental entities. Adam's partner in DoJoe, LLC, Josh Dworken, currently serves as a Principal at JDJ Investments, a real estate development and construction company in Washington, DC. Josh was previously an owner and manager of Curtis Chevrolet, a family-owned and operated dealership that served the Washington, DC area for over forty years.
In addition to the two five-unit agreements mentioned above, Dunkin' Donuts' is still seeking new and existing franchisees to purchase a minimum of five restaurants in the metropolitan Washington DC area. Opportunities for development are within the city of Washington, DC, the counties of Arlington, Montgomery, Prince Georges, and Fairfax, as well as the city of Roanoke and the state of West Virginia. Dunkin' Donuts development of Washington, DC is part of an aggressive national growth strategy, which includes expanding in existing markets while entering new cities across the country to help direct the company's future growth.
"We are excited to welcome DC Coffee Kings and DoJoe to the market," says Lynette McKee, CFE, vice president of franchising, Dunkin' Brands, Inc. "Additional Dunkin' Donuts' franchising sales' opportunities also exist in Dayton, Detroit, Memphis, Birmingham and other select markets.
According to McKee, "Dunkin' Donuts will satisfy a growing demand in Washington DC for high quality coffee and baked goods that are available all day. Dunkin' Donuts is proud to energize Americans and keep the honest, hard-working, value-driven people of this country running every day -- whether it's in a boardroom, a schoolroom or a construction site. We look forward to being a vibrant part of the community and playing an important role in the daily lives of the people who live and work in the metropolitan Washington DC area."
Dunkin' Donuts recently launched its new, all-day Oven-Toasted menu. The new platform marks the most significant change to Dunkin' Donuts product lineup since the company launched espresso-based beverages in 2003. The menu items are now available nationwide in participating restaurants.
###
Aout Dunkin' Donuts
Founded in 1950, Dunkin' Donuts is America's favorite everyday, all-day stop for coffee and baked goods. Dunkin' Donuts is the #1 retailer of hot and iced regular coffee-by-the-cup in America, and the largest coffee and baked goods chain in the world. Dunkin' Donuts has earned the #1 ranking for customer loyalty in the coffee category by Brand Keys for two years running. The company has more than 7,900 restaurants in 30 countries worldwide. In 2007, Dunkin' Donuts' global system-wide sales were $5.3 billion. Based in Canton, Massachusetts, Dunkin' Donuts is a subsidiary of Dunkin' Brands, Inc.
SHARE: