Hounds Town
Business Opportunity
| | |
| --- | --- |
| | $1,000 |
| Investment | $100,001 - $200,000 |
| | $35,000 |
| Units in operation | 5 |
| Franchising Since | 2007 |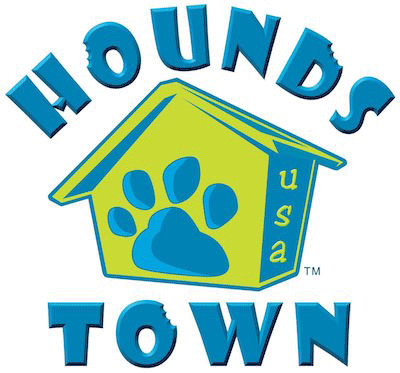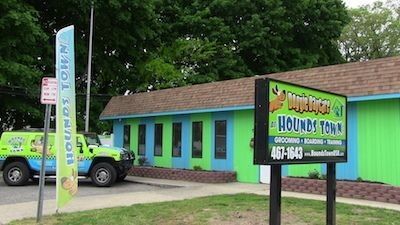 About Us
For more than 15 years, Hounds Town USA has offered a straightforward and honest approach to pet care, and a natural environment for dogs to be dogs.
Founded in 2001 by former NYPD canine handler and commanding officer of the Nassau County Police Department Michael S. Gould, Hounds Town USA is a fully interactive daycare, boarding, and grooming pet care facility that offers worry-free, flexible, and reliable service.
Unlike many other pet care facilities, we offer FULLY INTERACTIVE daycare—meaning dogs are placed in play groups by size and temperament, where they interact and play all day long. The psychological structure that natural packs offer helps with separation anxiety, confidence building, obedience, and many other behavioral issues. It's also piece of mind for our customers, knowing that their dogs have a place to be themselves without having to pay a fortune.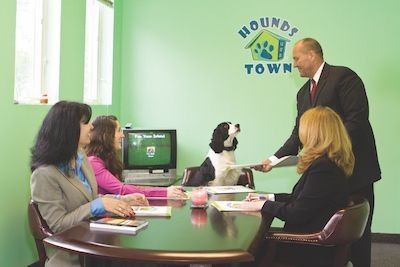 The Pet Service Industry
Americans spent over $60 BILLION on their pets in 2015 alone. That is an increase of about 25 percent from just five years ago. Plus, that number is expected to grow to nearly $80 billion over the next few years. The pet services industry continues to grow steadily at a rate of 6% a year.
70 percent of all U.S. households own a pet, and most of these pet owners consider their pets a member of the family. Pets are replacing children in many millennial households, and we expect that people will continue to spend billions of dollars on their pets well into the future. This means that reliable, convenient, and trustworthy pet care service has never been more in demand!
Hounds Town USA is offering franchise opportunities across the country. With four locations in place already, Hounds Town USA is looking to expand their unique pet care services with the help of enthusiastic animals lovers and entrepreneurs. Whether you've always dreamed of working with dogs, are looking for a second or alternative career, or simply want to invest in a recession-resistant investment, the opportunity to join the Hounds Town family awaits!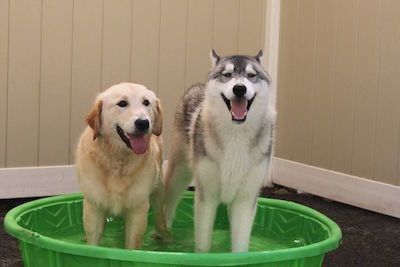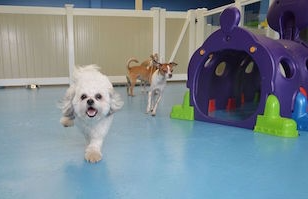 Our Benefits
So, why Hounds Town USA? First, we know what we're doing. Unlike other pet care facilities, we offer several things that they don't, such as:
No Discrimination. Period: We do not discriminate based on breed, age, or disability. We have the experience and ability to group and care for all types of dogs–including bully breeds, senior dogs, and disabled dogs–as long as they pass our temperament evaluation.
Natural Pack Environments: We pride ourselves on providing fully interactive daycare all day long in groups that simulate natural packs for dogs. This optimizes their physical and psychological health and provides the natural structure dogs need.
In-depth Experience: Founded by former NYPD canine unit officer with more than 35 years of experience. We have a unique and straightforward approach to pet care rooted in a deep understanding of dogs and their behaviors.
Large Play Areas: Customers appreciate the convenience of indoor/outdoor access for their pets. Where zoning permits, we offer outside play areas as well as large indoor areas with tiled or concrete floors, where dogs are grouped by size and temperament.
A Brand Customers Love: Hounds Town is built to look like a town for dogs, offering many pet care services including daycare, boarding, grooming, pet taxi, retail, cat care, and more, for one-stop shopping. Additional revenue stream opportunities exist.
Competitive Pricing: Unlike some other facilities, we do not take advantage of customers' emotions and their anthropomorphic treatment of their dogs. We do not charge extra for administering medication, giving treats, or personalized attention.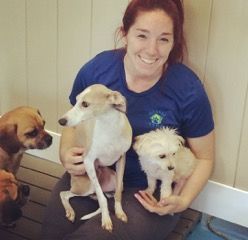 Testimonials
"The emotional bond between our customers and their dogs made it clear to me that pet care is my passion. Watching pit bulls play with poodles made me realize we have something unique here and I wanted to be part of something different."
-Jennifer, Hounds Town USA franchisee
"When the opportunity to purchase the franchise came I couldn't resist turning my passion into a career."
-Candice, Hounds Town USA franchisee
"I loved the concept when I heard about it. After bringing my dog to daycare as a customer and seeing how much she loved it, I was sold. You wouldn't realize how vital doggie daycare is to working people, and now I now get to bring my dog to work with me."
-Maria, Hounds Town USA franchisee
Is this your franchise?
Contact us to unlock your franchise's page to add content and get leads!