Filta Environmental Kitchen Solutions
Business Opportunity

Worldwide Leader in Fryer Management, Cooking Oil Filtration and Bin Free Waste Oil Removal
What industry are you interested in?
Take this short quiz and find the perfect franchise for you to start!
| | |
| --- | --- |
| Investment | $50,001 - $100,000 |
| Units in operation | 140 |
| Franchising Since | 1996 |

About Filta Environmental Kitchen Solutions Franchise
Filta is a progressive Franchise looking for Franchise Owners that want to grow a management style, multi-unit business offering multiple eco-friendly services to a customer base that is visited weekly.
Filta Environmental Kitchen Solutions Franchise Opportunities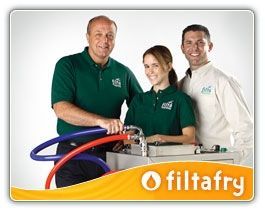 Repeat customers, repeat revenues, multiple service offerings to each customer. Our services are set up to provide solutions to some of the most problematic areas of the kitchen. We remove the hassle and liability of some of the least desirable jobs, and do them in a safe, efficient, clean, and cost effective manner. Customers enjoy benefits such as: cleaner fryers, longer oil life, less waste, more consistent food product, happier staff, less employee accidents and claims, reduction in insurance premiums, no more smelly waste oil bins out back, and an overall more efficient operation.
Filta Environmental Kitchen Solutions Testimonials
"I have been a franchise owner since April 2010 with steady growth in the Chicagoland area. The brand continues to gain traction within the food service industry and the addition of multiple service streams such as FiltaCool and FiltaBio to complement the FiltaFry service makes for increased profitability per stop and continued loyalty with our customers."
- Bob Smith, Franchise Owner, Chicago, IL
"Filta provides such a unique business opportunity with a service that practically sells itself. Just to name a few of the selling points, it is a green service that saves the customer money, reduces their liability, improves their food quality and makes a positive impact on the environment. Plus, Filta continually works to add new revenue streams and improve the existing ones. Top all of that off with the fact that there is really no competition in this space and you have a no brainer!"
- Mike Powers, Franchise Owner, Houston, TX
"I spent 28 years in the hospitality industry employed as everything from a bus boy to an executive chef. I purchased my Filta Franchise because I wanted to provide a service that would be beneficial to the food service industry. After 7 months I already have two vans running and I provide service to restaurants, hospitals, country clubs, and business and other industry cafeterias. The best part is, I am barely scratching the surface of my Territory!"
- Todd Barnum, Franchise Owner, Charleston, SC

Is this your franchise?
Contact us to unlock your franchise's page to add content and get leads!