EcocountertopsUSA
Franchise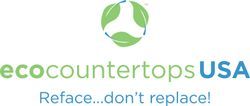 Reface...Don't Replace! A fraction of the cost of new laminate installed! Ecofriendly countertop resurfacing system. Also includes vanities, tubs, showers and surrounds.
| | |
| --- | --- |
| | $54,999 |
| | $42,500 |
| Units in operation | 19 |
| Franchising Since | 2013 |
There Is an Enviromentally Friendly Solution!
Resurfacing countertops with an ecofriendly spray-on application is a revolutionary idea that can quickly transform your kitchen or bathroom countertop into a modern masterpiece.
There is very little disruption to you; your kitchen or bathroom remodeling will be done in a few hours and will be backed by a 1-year warranty! Our trained technicians can repair any burns, dents, scratches, uneven seams, broken laminate and water damage. They will carefully cover the cabinets, back splash, sink, floor and any other items in the area where the countertop will be resurfaced so that they will not get damaged. They will then spray your choice of one of our many colors on your counter, leaving you with no mess and a beautiful new countertop.
Our new rapid curing seal coat technology provides an incredibly durable finish and leaves your countertop ready for use that evening. In the unlikely event your countertop gets damaged in the future the technician from ecocountertopsUSA can come back and do an invisible patch for a nominal fee, leaving it looking like new again.
There is a growing awareness of how fragile our environment is and the ecocountertops™ System was developed with that in mind. This remarkable system has very low VOC's (volatile organic compounds) or harmful fumes, so your family and pets will be protected. Plus, because you are not tearing out and discarding an old countertop in a landfill, our ground water will be spared the urea formaldehyde resin and other chemicals released from old countertops when water breaks down their high density particle board that the laminate is glued to. (These human carcinogens are inactive while in your kitchen or bathroom counter but reactivated when exposed to the elements.) If you would like to know about this innovative quality re-surfacing system that is beautiful, durable and a fraction of the cost of a replacement countertop, with no mess or risk of damage to your, home click here.
One of the easiest ways to transform a kitchen or bath is to change out the countertop. The traditional way to do this is to order a new one and have it delivered and installed. Sounds simple, doesn't it? Yes...until you start to count up the extras. The old countertop has to be torn out, which means the sink and plumbing are going to have to be dealt with. Plus, the electrical will probably have to be dealt with. You'll be lucky if the old top comes out without damaging, or exposing damage - to some part of the wall, which will have to be fixed. In the end, you get a new countertop - and a combination of extra hassle and added expense.
With the revolutionary ecocountertop™ System, you select the solid surface look of your new countertop and schedule a morning or afternoon you want it changed. A highly trained technician will come in, expertly prepare the countertop, cover all other surfaces and appliances, and then apply the base, color and sealer coats. No tear out, no plumbing, no electrical, no mess. You will love the way your new countertops look -- and you'll be using them like normal the next day!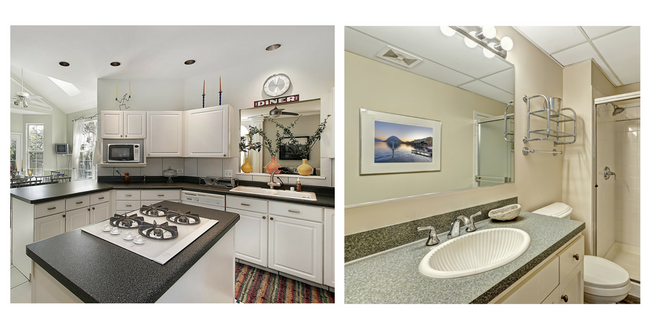 Is this your franchise?
Contact us to unlock your franchise's page to add content and get leads!