Franchising
Franchises are the perfect way to open a new business because when you open a franchise, you receive brand recognition and advice from the parent company. Franchises are ideal business opportunities because the startup cost is lower than a new company and a proven business model is already available. Franchises have many different options depending on the initial startup costs, how much time you want to devote, and the number of other franchises in the area. Many franchise opportunities are available now including fitness, restaurants, educational, clothing, and services, and if you are thinking of starting a business, chances are a franchise is currently available in the industry that interests you.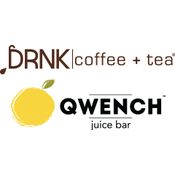 DRNK coffee + tea / QWENCH juice bar
Born in Hollywood, DRNK coffee + tea and QWENCH juice bar have since grown into two of the most popular beverage spots for the millennials of Southern California.