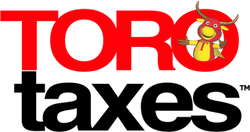 Join our Familia and serve the 60 million Hispanics spending 1.7 trillion dollars in goods and services
| | |
| --- | --- |
| | $1,000 |
| | $25,000 |
| Units in operation | 170 |
| Franchising Since | 2007 |
The First, Only and Largest 100% owned Hispanic Franchise of Tax Preparation in the US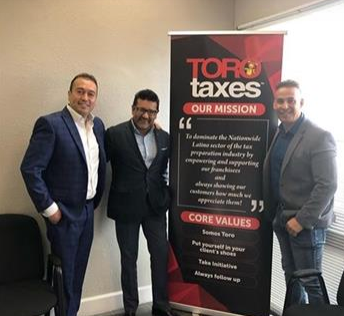 Our Industry
The tax preparation industry continues to be a successful and profitable business. With annual growth and opportunities to expand your revenue, you will see the value Toro Taxes will bring to you and your family. Join the only recession proof industry, the tax industry!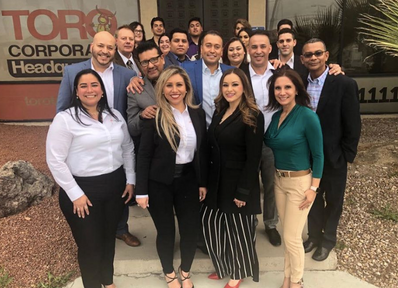 Our Opportunity
With over 60 million Latinos living in the US spending over 1,7 trillion dollars in goods and services, we still do not have a Hispanic franchise to represent us. The Latino population represent 20% of the total US population, however, only 1% is represented by a Latino franchise, Toro taxes Franchise. There is a great opportunity to provide services to a community in need of bilingual tax professionals.
Flexible and Affordable Development Options: The choice is yours; you can build your Toro Taxes business as a brand building brick and mortar store or a seasonal kiosk. Plus, for qualified franchisees, we have expansion options that include Area Development opportunities.
Digital Technology and Customer Service Systems: Gain access to our technology and customer service delivery systems that includes our paperless tax preparation systems for faster service, easier management, reduced costs, increased revenues and happy customers.
Tested Training Systems that put you in charge: Our management team knows what it means to open a tax business. We've taken all our experiences and have put together training systems that will empower you. Best of all our training programs are provided both online (so you can study at your own pace) and in Professional Live classroom settings.
Year-round Franchisee & Customer Service Support: We're here for you, but also for your clients. Our customer service department is open year-round even when you're not.
Low Start-Up Costs: Only $5K Down payment! We offer easy to qualify financing options to help open your Toro Tax franchise. We can also include all your start up equipment and supplies such as desks, computers and furnishings. The balance is broken down into yearly installments so that you only have to pay once per year allowing you the tax season to generate the funds before payment is due. We believe in keeping our franchise fees and your start-up costs as low as possible allowing you more room to succeed and making it easier to open your own business.
Marketing & Brand Recognition – With our rapidly growing tax service franchise, customers know our name and trust our services. Toro Taxes believes in maintain a strong industry presence and therefore invests in the best marketing teams! Our campaigns often included a variety of unique marketing approaches such as celebrity endorsements and nationwide sweepstakes to increase brand recognition for our franchisees.
Territory Protection: As a franchisee you'll have a protected territory where no other Toro Tax business will compete with you.
Become a part of something greater than yourself – call Toro Taxes at (888) 434-8457 to learn more about our tax preparation franchise opportunity!
Is this your franchise?
Contact us to unlock your franchise's page to add content and get leads!