Synergy HomeCare
Franchise

The most trusted name in non-medical home care
| | |
| --- | --- |
| | $45,000 |
| Investment | $50,001 - $100,000 |
| Units in operation | 220 |
| Franchising Since | 2005 |
The Most Trusted Name in Home Care
Become a Synergy HomeCare franchise owner and join one of the fastest growing non-medical homecare franchises in North America!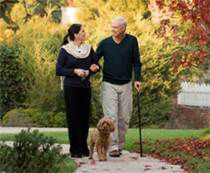 Recognized by Entrepreneur magazine as one of the Top 500 Franchises!
Recognized by Franchise Business Review as one of the Top 50 Franchises in terms of Franchisee Satisfaction!
Non-medical home care is the fastest growing industry
Low start-up costs
Proven, effective system
Turnkey operation

The need for non-medical, in-home care is growing at an unprecedented rate and Synergy HomeCare is at the forefront of this exciting business opportunity. There are now over 34 million people in the U.S. over age 65 - approximately 12% of the population. In 25 years, this age group will grow to over 70 million. With our established franchise concept, you can help the right individuals provide valuable non-medical homecare services - services that directly impact the quality of life of our clients and their families. The market for home care is large and will grow substantially over the next 20 years. Ready for a franchise opportunity that will give you complete control over your financial future? You've come to the right place!
Prior medical or home care experience is not required of franchisees. Frequently, Synergy HomeCare business owners come from DIFFERENT INDUSTRIES. Management and sales development skills, however, are essential.
Through our comprehensive franchise support, we will empower and help you to build a successful business just as we have for many of our existing franchisees.
Training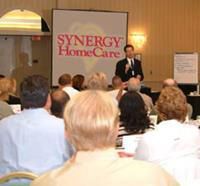 Our training program ensures that each franchisee has the knowledge and tools needed to start and grow their own Synergy HomeCare franchise. Training never stops with Synergy HomeCare - franchise partners have initial training at our Franchise Support Center, our "Quick Start" on-site training program gets franchise partners up and running quickly, helping them apply their classroom lessons in the field for their business. Once open, Franchise Partners are supported throughout the year with on-line and in-person sales, operational and marketing training. As you will see, our non-medical franchisee training is the most comprehensive in the industry.
"Starting your own business is a very scary prospect and requires much research and dedication. Synergy HomeCare Franchising has been there to walk us through the process from A to Z! Questions are answered, most of the time even before being asked! Corporate is always looking for ways to assist franchise owners in building a successful business and truly have an "All for One" attitude. The week long training session gives all new franchise owners the tools needed to start a Synergy HomeCare agency, regardless of prior experience." - Doc and Andrea Mosher, franchise owners, Conroe, Texas
Support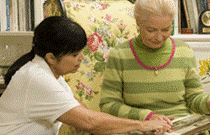 Synergy HomeCare is dedicated to ensuring that our franchisees are being supported in all facets of their businesses. Support is ongoing and is tailored to meet the individual needs of each franchisee. Regional Developers provide franchisees with localized support while the Franchise Support Center develops new initiatives, strategies and partnerships that help the entire system grow. Each franchisee is assigned to a start-up coach who will provide guidance with pre-opening activities and assistance with state licensing processes where applicable.
"The support that I have received from Synergy HomeCare Corporate Headquarters has been very strong. As we all realize, starting a new business is a difficult process that requires a great deal of planning and forethought, if it is desired to avoid the typical pitfalls that plague new business ventures. For this very reason, I am thankful to have the support from the corporate support team in Gilbert, AZ. Everyone has been so responsive to both my questions and requests for various franchise-related materials. Whether I've been looking for answers regarding the best source for business cards or the best places to find caregivers in my local market, the Synergy HomeCare corporate support team has been there to help me." - Mike Willett, franchise owner, Houston, Texas
Marketing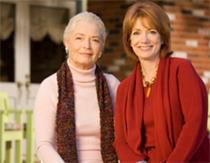 National marketing programs that generate awareness for the Synergy brand are integrated with regional and local initiatives to drive business to franchise partners. The multi tiered, national, regional and local marketing approach gives Synergy HomeCare franchise partners a distinct advantage. Multiple marketing channels are used as well robust direct to consumer and referral based marketing programs supporting franchise partners. How we market our brand at the client level is a big part of what makes us different and we have an extensive library of marketing materials available to our franchise partners with detailed instructions and support on how to effectively use the materials.
"For about six months I looked at 8 different competitors in the industry and it seemed like Synergy HomeCare got it. They knew exactly the role the franchisor could play in supporting franchisees and providing them with the tools they need to be successful. They also have the right culture as far as the caring outlook is concerned when it came to clients." - Vasilis Georgiou, franchise owner, Irvine, California
Technology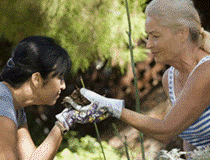 Exceptional software is essential to running a successful franchise. We have integrated a web-based business management software solution that gives you the power to start up and run your franchise effectively and efficiently. This technology not only helps to manage client and caregiver information, it also allows for efficient management of sales and marketing efforts while simultaneously measuring the return on those efforts. The fact that this software is completely web based gives our franchisees ultimate flexibility and never puts them in a position of needing to be in their office to access their business information. Our client focused website is incredibly innovative and is driving new client leads as well as potential caregiver applications right to each franchisee. In addition to our corporate website, Synergy HomeCare offers all franchisees access to our Intranet site filled with resources to help in everyday business operations.
"The new website?!?!?! Outstanding. Cutting edge. Complete. Pioneering. State-of-the-art. Thanks to Peter for making some sacrifices to make sure we're positioned for the future with that site and its abilities." - Mitch Bloom, franchise owner, Golden Valley, Minnesota
If you have strong people skills, a business or management background and a desire to succeed by improving the lives of those around you, we would like to hear from you!
GREAT! WHAT'S MY NEXT STEP?
Please complete the request form and you will promptly be contacted by our Franchise Development Coordinator.
Is this your franchise?
Contact us to unlock your franchise's page to add content and get leads!