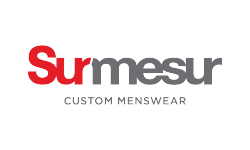 Surmesur is a company of made-to-measure clothing for men, we offer many different made-to-measure products at off-the-rack pricing from suits to dress shirts, chinos etc
| | |
| --- | --- |
| | $1,000 |
| | $30,000 |
| Units in operation | 11 |
| Franchising Since | 2017 |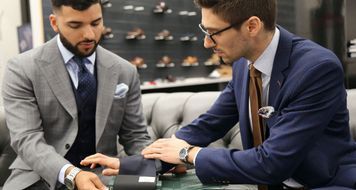 SURMESUR CUSTOM MENSWEAR
Surmesur is a company of made-to-measure clothing for men, that first came to life almost 10 years ago. We offer many different made-to-measure products at off-the-rack pricing from suits to dress shirts, chinos, accessories and shoes. Take part in this innovative way of shopping.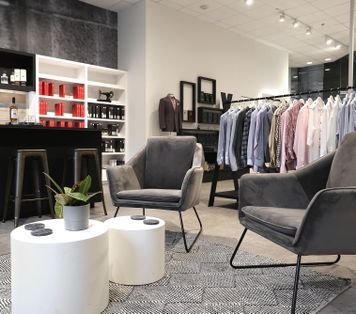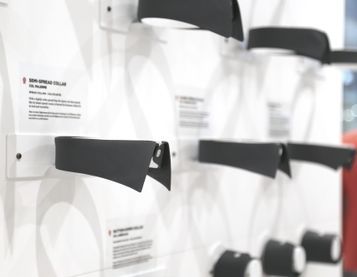 THE CONCEPT
Create a new market segment between the familiar off-the-rack shopping experience and the craftsmanship of a master tailor.
SHOPPING EXPERIENCE
A personalized store visit to create your custom look in just 4 steps:
Choosing fabric
Creating and choosing options
Getting measured
Getting fitted and having alterations done (if necessary)
REASONS TO VISIT THE STORE
The ability to create customized clothing
Refined style, countless options
Any size possible
Reasonable prices
Fast production turnaround time
Product quality
Expert, one-on-one consultations
DELIVERY TIME
Fast track (in-house fabrics): 2.5 to 3.5 weeks
Regular: 4 to 6 weeks
OUR MISSION
"Surmesur is committed to providing the most exceptional shopping experience and the best value in custom, made-to-measure menswear."
Our Values
"Be Creative, Take Action, Be Better, Have Fun!  "
Our Promise
"Surmesur is committed to providing the most exceptional shopping experience and the best value in custom, made-to-measure menswear."
OUR HISTORY
On November 15, 2010, after months of research and design from their apartment basement, brothers Vincent and François Thériault started their business, offering a new and original shopping experience in a 320-square-foot store in Quebec City. The concept was an immediate success and the store quickly outgrew its location. In June 2011, the store moved and expanded to a 1,200-square-foot space that could more comfortably welcome customers. Thanks to the success of its model and to word-of-mouth, Surmesur experienced rapid growth over the following year.
Less than a year after establishing the Montreal branch in 2012, Surmesur was proud to announce the opening of a third store in downtown Toronto in 2013. A fourth store opened in Ottawa in summer 2014, and a fifth in Laval in 2015.
In 2016, Surmesur took the next big step in its ongoing expansion with the opening of a store in Mississauga to better serve the Greater Toronto Area, and the inauguration of the company's first U.S. locations, in Chicago and Pittsburgh. The same year, Surmesur launched a new transactional website, empowering clients to create and order their made-to-measure clothing online.
The same year, Surmesur opened its first two "shop-in-shops" through agreements with independent men's clothing retailers. Seeing the positive response to this new venture, Surmesur decided to launch four more shop-in-shops, increasing the total number of Surmesur destinations to 14.
Building on this momentum, Surmesur made its innovative business model available as a franchise opportunity across North America in 2017.
What happens next is up to you....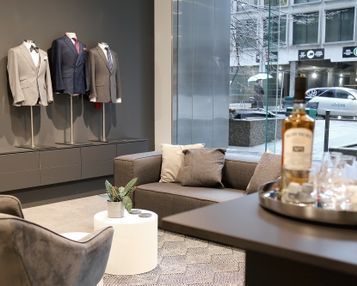 OUR STRENGTH
The ability to process thousands of custom items efficiently using our own powerful software program. Endless items without the challenge of an inventory.
By building a powerful, proprietary software program and solid partnerships with top-notch manufacturers, Surmesur is able to process thousands of custom items quickly and efficiently. Endless design options for suits, shirts and much more!
Surmesur's stores are located in the heart of major cities, close to their customer target: businessmen and professionals. "Flexibility without  inventory is everything combined with the right tools"
THE INDUSTRY
Surmesur operates in the evolving men's retail segment of custom, made-to-measure clothing.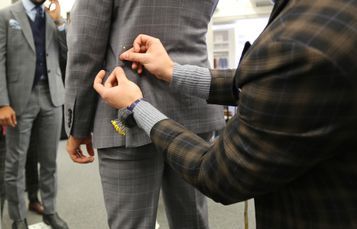 OUR PRODUCT
Creating made-to-measure garments give the client the opportunity to choose everything from fit, to comfort and style. Surmesur is a company of made-to-measure clothing for men, that first came to life in 2010 in Quebec city. We offer many different made-to-measure products at off-the-rack pricing from suits to dress shirts, chinos, and accessories.
OUR OFFER
Creating accessible made-to-measure wear for the everyday businessmen has been our main priority. Learn more about our franchisee program.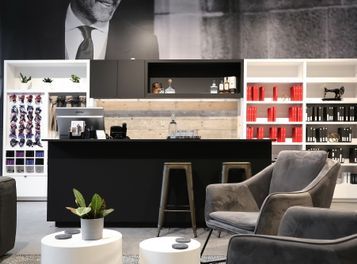 HOW TO BECOME A FRANCHISEE
Before deciding to grant a franchise license, the Surmesur team undertakes a detailed selection process, including in-depth interviews with the prospective franchisee.
A franchisee must have:
Entrepreneurial proactivity
Management and communication skills
Financial understanding of a business operation
A demonstrated commitment to customer service
An appreciation and understanding of the Surmesur brand
A keen desire to succeed
Experience in retail or fashion is preferable, but not necessary.
THE PROCESS
We want the process of joining Surmesur to be simple, fun and as stress-free as possible!
Our due diligence checklist will make sure that everything is covered, but here's an idea of what you can expect:
Complete the online Contact form;
We will then get in touch with you to learn more about you and see how we can work together;
Surmesur will request to complete the "Franchise business application and net worth" form;
If it concord with Surmesur vision, a phone conversation with a Franchise Development Manager will be set up to better know the potential candidate;
Surmesur will provide the "Franchise package information" ;
Orientation in our Quebec city head office;
Training on the Franchisee's Due Diligence, Operation manual, Opening process etc;
Complete the franchise business plan proposal;
Finalize your Franchisee Application and submit the deposit;
Submit the final forms for Surmesur to review;
Completed his analysis of the potential territory, close competition and more;
Apply for/secure Financing and Insurance;
Finalize all documentation and payments;
Schedule the training and start the on-boarding process.
Thank you again for your interest in Surmesur. We look forward to discussing this exciting franchise opportunity with you!
Our Franchise Program
ROYALTIES
In addition to the initial investment, ongoing payments (plus applicable taxes) are required as follows:
Royalty fee:
6.5% of gross sales for the term of the license
Marketing fee:
1.5% of gross sales for the term of the license
INCLUDED IN THE COST OF A SURMESUR FRANCHISE:
All tenant improvements, furniture, displays, signage and initial inventory
Six-week training program for the franchisee and two-week training program for the first employees, conducted at Surmesur University the company's Quebec City and Mississauga  facilities
A Surmesur opening crew of two staff members to assist with operations for a maximum total, combined period of four weeks
Initial marketing fees (grand opening event)
Surmesur training manuals\Right to use trademarks
All Surmesur products and operational services with Surmesur Studio access.
Complete Dashboard to manage operations and sales
Comprehensive support structure and training from head office personnel with in-depth knowledge of men's fashion and retail.
FRANCHISE FEES
Initial franchise fee: $30,000
Total investment in the store: between $225,000 and $350,000*
Additional working capital: $50,000
*The specific cost of a Surmesur franchise license will depend upon the size of the retail space and the territory served. The cost may exceed $350,000 in certain locations due to higher development costs.
SUPPORT
Training program:
All new franchisees must attend our intensive 6-week training program at Surmesur University, based at the head office in Quebec city and at our Mississauga facilities. It's an in-depth program that covers all aspects of the Surmesur concept, from the technical knowledge of fabrics and design options to the management tools in place.
The following ongoing support is also offered: Marketing, Operations, Information Technology, Administration, Human Resources, Technical/Product Support.
Is this your franchise?
Contact us to unlock your franchise's page to add content and get leads!