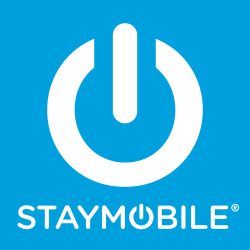 Staymobile - the total mobile device solutions provider enabling the mobile revolution.
| | |
| --- | --- |
| | $75,000 |
| Investment | $50,000 - $100,000 |
| Units in operation | 17 |
| Franchising Since | 2012 |
INVESTMENT LEVEL$72,500 to $169,000

The Staymobile Way – Uncompromising Service and Excellence
Our company's deeply rooted entrepreneurial attitude and forward-thinking spirit begins at the top with our executive team, a group of seasoned professionals with years of experience building and scaling service organizations. Our support team and our franchisees embody this same spirit, raising the bar of our service delivery every day. This innovative culture makes Staymobile a destination for trailblazers by creating a place where business builders, risk takers, leaders, and problem solvers can thrive. With a legacy of providing cell phone repair services as SmartPhone Medic since 2009, the business model has since expanded to include a broader array of mobile device services and thus transforming into Staymobile in 2013. Believing that mobile technology would completely revolutionize the way individuals, companies, educators, and municipalities do business, we set out to create an entirely new service offering designed to support the needs of all mobile users in the rapidly expanding mobility market. With its new and malleable branding, Staymobile is positioned to nimbly evolve as the handheld device arena grows and matures. With our ability to provide an all-inclusive suite of mobile device solutions – not simply break/fix services – Staymobile aims to empower all device users to focus on innovative uses of mobile technology rather than the complexities of managing mobility. Based in Atlanta, GA with locations throughout the southeast, Staymobile Franchising LLC is a wholly-owned subsidiary of Staymobile Ventures, LLC and financially backed by Kenwal Investment Group, which is based in Detroit, Michigan.
Leading the Mobile Revolution Through Innovation
At Staymobile we provide the essential products and services necessary to enhance and sustain the mobile lifestyle that consumers have become so increasingly reliant on. Our approach is comprehensive. We have developed an innovative three-pronged business model designed to deliver both transactional and recurring revenue that addresses the key areas of opportunity.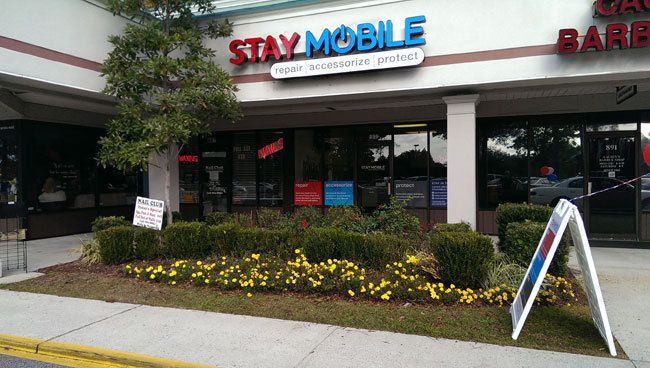 Delivering On Our Mission
The drive for mobility is part of the technology agenda for most enterprises today. Against this fast- moving mobile background it's clear that just having mobile access to e-mail is profoundly insufficient for increasing productivity and producing better-informed employees and students. As a result, the integration of mobile devices such as laptops, tablet computers, PDAs and smartphones, along with their various applications and software are now the norm, making it easier than ever for professionals and students to collaborate and businesses to communicate with their staff, customers, and vendors. Our mission is to support and sustain this trend. From mobile asset management and provisioning to security and software management to data protection and device repair, our ability to locally deliver this unique and powerful suite of services continues to differentiate our value proposition in the marketplace.
The 411 On the Mobile Revolution!
If ever there was a business growth opportunity, this is it! If we told you that almost everyone on Earth owns a mobile phone, would you believe us? Probably. But, would you believe these staggering numbers? Today, the world's population is over 7 billion, and there are 6.5 billion mobile phones. That's a 93% market penetration! And, that's not all. In the United States, there are 185 million smartphone and 147 million tablet users. The average person carries 2.9 mobile devices and 85% of those are smartphones. Now is the time for you to join us to assist in our mission to provide the services and products to enable and sustain the mobile revolution!
Untapped Market Growth: Mobile Service & Repair
Our ever-connected society has grown increasingly reliant on (ok, obsessed with!) the use of mobile devices like smartphones, tablets, wearables, etc. We need these tools for work and play, so any interruption in service causes panic. And, because these devices can be quite costly and are easily broken, mobile device users are more interested in and are looking for more economical repair solutions over replacing their devices.
According to the Ibis World May 2014 document "Cell Phone Repair in the US: Market Research Report," the cell phone repair industry has recognized profound growth over the past five years:
Earning $1.4 billion in revenue
Recognizing annual growth of 4.9%
Projected annual industry revenue rate of 10.9%
This market has an untapped market growth potential as evidenced by these facts and statistics:
$16B spent on damaged smartphones
Immediate opportunity to provide convenient & necessary services in your market
Opportunities in K-12 education and all B2B verticals with explosive growth; implementation of tablets and laptops for students, teachers, and employees.
No seasonality
The Numbers Don't Lie
With the increasing prevalence of mobile devices, more and more Americans will be seeking out repair services.
More than 185 million Americans own a smartphone
91% of smartphone owners keep their phone with them at all times
30% of smartphone owners have experienced accidental damage in the last 12 months
17% of smartphone owners have damaged their phone more than once
Accidental damage to a mobile device is 10-times more likely than loss or theft
Americans have spent $16 billion on repairing damaged smartphones
50% of college students have damaged their smartphone and bring $49 billion of electronics to school
With the explosive popularity of smartphones, which are more costly and more fragile, the need for repair is paramount, increasing the demand for quality repair services. "Smartphones currently represent more than two thirds of all mobile phone sales and half of all mobile phone users," stated IBISWorld industry analyst Nima Samadi. "The rapid market acceptance of smartphones has created a need for more cell phone repair shops to keep up with this growing market." IBISWorld also reported that the chance to dominate market share is up for grabs.
Staymobile: Growing A World-Class Brand
Responding to the increased reliance on mobile technology, Staymobile is delivering a comprehensive suite of mobile device solutions to protect, sustain and enhance the mobile lifestyle of consumers as well as the operating requirements of educators, and businesses. Staymobile has created an entirely new business model offering an array of services focusing on three key areas: Repair, Accessorize and Protect. All are designed to deliver both transactional and recurring revenue better than the competition.
Our franchisees have access to proven systems, best practices, and experience being on the same team. We support them with state-of-the-art training, marketing, operations and collective buying power to help tap this exploding market, grow your business, and help all of us collectively grow Staymobile into a world-class brand.
Sources: Forrester and Square Trade
Testimonials
Pradeep Krishna (2 locations in Charlotte, NC)
Pradeep is an IT professional with a background in wireless and telecommunications, working with start-up companies like Helio and tier1/2 service providers such as Amdocs, Sprint, Nextel, and Time Warner Cable. He is a first-time entrepreneur.
Why did you join Staymobile?
I had a keen interest in being an entrepreneur. I wanted something that was focused on technology, mobile, and education domain. Staymobile was everything I was looking for.
How do you think Staymobile differentiates itself from the competition?
I like the B2B model focused on education/businesses with the goal of providing total mobility solutions and not just repair.
Can you describe the kind of support you receive from Staymobile?
So far, it has been great. Chuck has been phenomenal in helping me get off the ground and establishing my locations in Charlotte.
What do you like most about being a Staymobile franchisee?
I like the work and our focus in the education space. I have received positive responses from teachers and technology coordinators whom I have worked with. It is a satisfying and rewarding experience to make a difference in our K-12 domain.
Where do you see Staymobile heading in the future and how do you think this will help you grow as a franchisee?
I see positive growth for Staymobile in education and enterprise space. Given my background in technology and mobile domains, I am more than happy to help any potential franchisee see the full picture and assist our corporate team in streamlining processes and operations as we grow.
What advice would you give to someone thinking about investing in Staymobile?
We are a total mobility solutions provider…join us!
Trace Smith (1 location in Charlottesville, VA)
Trace has a background in finance with investment banking and private equity.
Why did you join Staymobile?
I got bit by the entrepreneurial bug and decided it was time to lose the tie and roll my sleeves up and build something. I loved the service business model, the industry tailwinds, and the founding team at Staymobile. All of these factors (and a few more) led me to dive in headfirst!
How do you think Staymobile differentiates itself from the competition?
I think there's a personal touch that the big, established chains don't offer and a level of professionalism and craftsmanship that the fly-by-night entrants into the industry don't bring to the table. Whether in the store or in our interactions with the franchisor, there's always a can-do attitude - we try to support our customers and make them happy, and the franchisor does the same for us.
Can you describe the kind of support you receive from Staymobile?
It's phenomenal. Whether I have a question about a repair on a new device, need help with a supplier/vendor, or just need some general advice on day-to-day operations, the Staymobile franchisor team is always available (day and night) by e-mail, phone, or text. They give me the latitude to run the business as I see fit but provide immeasurable support when I need to lean on them! I'd describe them as "hands-on" but not intrusive. It's the exact level of support I need to be successful.
What do you like most about being a Staymobile franchisee?
I enjoy the people involved - from our team in Charlottesville to the great people at other franchise stores and the folks who run the show at the franchisor. There's a great group that sincerely wants to provide an unparalleled customer service experience and have a positive impact on each community where we have a Staymobile location.
Where do you see Staymobile heading in the future and how do you think this will help you grow as a franchisee?
I think Staymobile will continue to grow, bringing more great people into the fold and more stores online and will mature in the process. I think we'll continue to provide great service and continue to expand our service offerings. Staymobile has a huge opportunity to service large corporations with huge fleets of devices, too. Our offerings are so much more compelling than a costly, lengthy mail-in solution. We're cost-effective and same day!
What advice would you give to someone thinking about investing in Staymobile?
I'd tell them to talk to existing franchisees to hear about our experiences and to get advice on things that have and haven't worked in certain markets. The franchisor does a great job of laying out the blueprint, but the franchisees are fighting the battles day-to-day and have great pointers on small things that can make a huge difference!
Is this your franchise?
Contact us to unlock your franchise's page to add content and get leads!