ShelfGenie is your source for custom designed, built and installed Glide-Out shelving solutions for any existing cabinet in the home.
| | |
| --- | --- |
| | $1,000 |
| Investment | $50,001 - $100,000 |

AN AWARD-WINNING HOME IMPROVEMENT FRANCHISE
SHELFGENIE is the nation's leading provider of custom designed, built and installed "glide out" shelving solutions for any place in the home... kitchens, pantries, bathrooms, closets, home offices, media rooms, garages, and more. The leader in a traditionally "mom & pop" industry, ShelfGenie is a name that will soon be synonymous with "glide out" shelving.
HERE IS WHY SHELFGENIE WAS NAMED ONE OF THE FASTEST GROWING FRANCHISE COMPANIES IN THE U.S. BY INC. MAGAZINE (Aug 2010)
An extraordinary product with numerous potential revenue opportunities throughout the customer's home, as well as in commercial installations!
Limited competition... ShelfGenie is the only national franchise company in this industry!
Strength in numbers with more than 100 franchise locations across the US!
# 1 brand name in the industry!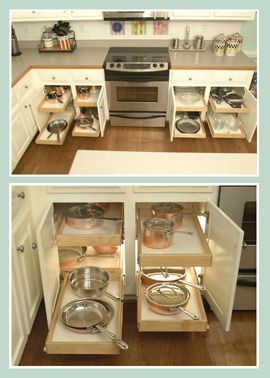 YEAR ROUND DEMAND WITH PROVEN PERFORMANCE, EVEN IN A DOWN ECONOMY!
Today's economy and the drop in the housing market has created a "perfect storm", as more people look to small, affordable upgrading as opposed to extensive remodeling or moving.
Seniors, baby boomers, and disabled individuals are "necessity" customers of ShelfGenie. They require easy access to the items they use on a regular basis, and are making the necessary modifications to their homes so they can live independently.
70% of our business comes from this growing demographic.
Home improvement industry sales have skyrocketed to an estimated $235 billion, up from $215 billion in 2005. And this upward trend is forecasted to continue in the years ahead.
25% of ShelfGenie franchisees have already expanded and purchased additional territory during the recent economic downturn.
A TREMENDOUS, VIRTUALLY UNTAPPED MARKET!
ShelfGenie's customers cross every demographic, yet it is the ever growing baby boomer and senior markets that ShelfGenie appeals to the most. Today there are 37 million people aged 65 and over, and that number is expected to grow to a staggering 70 million over the next 30 years. Currently less than 1% of this growing market is being serviced with our exclusive Glide-Out shelving solutions, presenting a tremendous opportunity for ShelfGenie and its franchisees.
OPERATIONALLY OUR FRANCHISEES HAVE:
Freedom from 8-5 office hours...ShelfGenie is run out of your own home!
No employees... our franchisees work with independent designers and installers!
Virtually no overhead...ShelfGenie is a home-based business with most costs being variable and directly related to sales!
One of the largest exclusive territories in the franchise industry, allowing our franchisees to grow their business as large as they desire!
WE ARE COMMITTED TO YOUR SUCCESS:
Comprehensive training covering every aspect of your business.
Start-up assistance at your location, with ongoing onsite assistance and remote support.
A centralized business support center that handles customer calls, schedules appointments, and makes customer service calls for you.
Access to our proprietary management software system, allowing you to manage all aspects of your business online.
A full line of beautifully designed consumer marketing materials.
...and much, much more!
Is this your franchise?
Contact us to unlock your franchise's page to add content and get leads!