Great Tasting Food. Highest Quality. Highest Standards
| | |
| --- | --- |
| | $100,000 |
| Investment | $200,001 - $500,000 |
| Units in operation | 46 |
| Franchising Since | 2005 |
TOTAL INVESTMENT LEVEL $284,995.00  - $393,000.00

About Sarpino's
Sarpino's offers the highest-quality gourmet and specialty pizzas, authentic Italian pastas, calzones, hearty sandwiches and paninis, healthy fresh salads, succulent chicken wings, freshly baked garlic and cheesy breadsticks, desserts and beverages.
Sarpino's was created in response to consumer demand for greater freshness, quality, authenticity and most of all variety in their fast food alternatives.
At Sarpino's they understand the needs of today's busy families and individuals. Whether you are working late at the office or in-between dropping kids off at sports practice, you should always have a choice of a variety of fresh, healthy, and authentic dishes delivered right to your home or office.
Sarpino's History
Sarpino's Pizzeria was founded in 2000 by Gerry Koutougos in Victoria, British Columbia. A 40-year restaurant industry veteran, Koutougos was inspired by a family vacation to Italy in 1999 where he was introduced to a small, family-run restaurant overseen by a local woman named Sarpina. Awed by her food, he volunteered to work in her kitchen for free for two weeks if she would teach him how to cook authentic Italian cuisine. The secrets she taught him have been part of the Sarpino's Pizzeria recipe ever since. They include hand-kneaded dough which is allowed to proof three times to fully develop its flavor and texture; sauce made from ripe tomatoes and a secret, authentic mix of Italian herbs and spices, the recipe for which was given to Koutougos while he was in Italy; and a unique gourmet cheese blend that includes fresh whole-milk mozzarella and Edam cheese from LaGrander's Hillside Dairy in Wisconsin. Edam, an aged cheese, gives Sarpino's pizza its golden and warm appearance and unique flavor.
Koutougos opened the first Sarpino's restaurant in Victoria, British Columbia, in 2001 and began franchising shortly thereafter. The first U.S. location opened in 2003 in Phoenix, Ariz. Two years later, in 2005, the original Area Franchisor for IL took over U.S. operations of the brand.
Why Franchise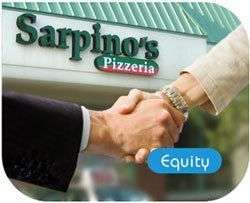 A franchise business isn't for everyone, but there are very compelling reasons why it just might be the opportunity for you. People who run successful Sarpino's Pizzeria franchises have the opportunity to reach their personal goals in four important aspects:
Income: What you need to support your day-to-day life.
Lifestyle: Do you enjoy your free time? Do you have any? Successful franchisees may have greater control over the lifestyle they choose, along with income to enjoy it.
Wealth: What you are able to save from your income after you take care of your needs. Your bank account.
Equity: A franchisee's business has a future value. You can sell your business (value) and retire or pass it on to your family.
Training and Ongoing Support
Sarpino's Pizzeria includes a comprehensive one month training program at its corporate training center in Lincolnshire, Illinois, one week of business training and four weeks of opening training by the corporate trainer at the new store. The company provides a Performance Improvement Consultant (PIC) on site at every new location for their first four weeks. Before each store is opened, franchisees are required to prepare a first year business plan that forms the foundation for the continuing consulting work with the PICs. Sarpino's also offers on-going training for franchisees and team members on various operational issues, and offers training for new programs and systems. New programs and new systems training is sometimes performed in-store by a visiting PIC, and sometimes is classroom training at the corporate training center or off-site locations. Every franchisee has constant access to a sophisticated Intranet portal that provides vital information on a daily basis.
Franchisee Testimonial
"Sarpino's Franchise System gives you a strong team to lean on when you don't have all the answers. Sarpino's franchise support team will sit down and advise you on how to improve all aspects of your business. Whether it is customer service, product, food, labor, or rent, or whatever the case may be, Sarpino's franchise support team will have the answers for you."

D.H. Kansas City, MO
Is this your franchise?
Contact us to unlock your franchise's page to add content and get leads!