RejuvaHeart ECP
Business Opportunity

Our clinic placement program provides you an avenue for tapping into this wealthiest segment of healthcare.
| | |
| --- | --- |
| | $1,000 |
| Investment | $50,001 - $100,000 |

START EARNING BIG MONEY IN REVENUES AND PROFITS —
as much as $300,000.00 per year!

Our clinic placement program provides you an avenue for
tapping into this wealthiest segment of healthcare.
We are an accomplished medical equipment company located in Marietta, GA – since year 2000. We have sold and installed well over 2,000 spinal decompression systems all over the world, with 95% of those installations right here in the USA.
3 YEARS AGO BEGAN A HUGE BUSINESS OPPORTUNITY
"Cardiology Compression Therapy" has been proven as effective in reducing- almost eliminating- painful symptoms and lifestyle restrictions often caused by heart disease-, as well or better than angioplasty. And it works without the invasiveness of having an angioplasty. It is safe, effective and economical to administer to patients, and in contrast with surgical heart bypass and stents, its cost is so small- only about a fraction of what those higher risk procedures cost. It is even approved by Medicare.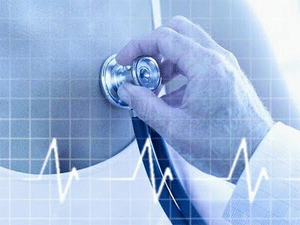 Cardiology Compression Therapy has been overlooked by American cardiologists in favor of much more expensive and drastic cardiovascular solutions. In order to solve the resistance from cardiologists, we realized we had to get the technology into the hands of medical doctors who did NOT have a bias towards cutting into their patients. And so we created the placement program.
We then invested in a unique mechanism known as an MSO to allow us to interface with doctors and clinics within the safe harbors that prevent the appearance of inappropriate kickbacks, while creating a self-funding program to generate impressive profits.
WHAT IS THE DEAL?
You buy into one RejuvaHeart treatment device with a payment of only $80,000.00 which gives you a full 50% ownership in the treatment device with us (NAHI). The system is then placed in a medical practice for use under contract generating rental fees, management fees, service fees, etc., all of which are paid out of the ongoing regular patient treatment revenues. You have fifty percent ownership in the device, but we actually pay you 70% of all revenues that device generates from the clinic.
We also subrogate to you our entire portion of the partial device ownership thus giving you a 100% secured position for your paid in $80,000.00 device payment.
You may at this point ask "how much money can my $80,000.00 earn per year?" That figure will, of course vary according to the amount of use that each device receives. An active equipment owner may wisely elect to be involved in clinic marketing support that helps drive patients to the clinic program. Even if you have no such interest in direct involvement, a healthy return on investment can be accomplished with just one patient being treated per month.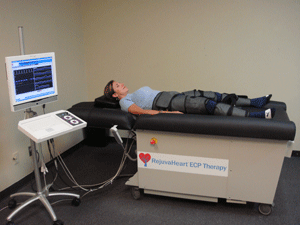 Most doctors hold some 3,000 to 5,000 patients in their active database. So more or less you can calculate 1/3 of those active patient files should qualify for or fit the criteria for being cardiovascular patients who are likely suitable for RejuvaHeart ECP therapy. That is why we send the clinic an experienced person from our office to help them in marketing to their own patient database inviting patients to come in for a free evaluation of their cardiovascular condition.
This is an exciting business that helps people experience a dramatic improvement in their quality of life and return to healthful living. And you can be a part of it because we will provide you with all the training you may want in this safe and effective healthcare technology.
For more details and program performance estimates, please fill out the inquiry request form below and we will send you more detailed revenue charts, medical literature and device information. If you find that this opportunity to function within and profit from the medical healthcare arena is potentially well suited to your background and life interests, then we look forward to speaking with you in person!
Is this your franchise?
Contact us to unlock your franchise's page to add content and get leads!