Jimmy John's Gourmet Sandwich Shop
Franchise

Jimmy John's Gourmet Sandwiches – Rated #1 Sandwich Delivery Chain in America is rapidly expanding.
| | |
| --- | --- |
| | $1,000 |
| Investment | $200,001 - $500,000 |


A Fresh Gourmet Sandwich Franchise Opportunity
Jimmy John's World's Greatest Sandwiches are made from the highest quality meats, cheeses and toppings available. The fresh vegetables that go into all our sandwiches are cut daily. Our breads are baked fresh in our stores everyday. Each sandwich is made one at a time, fast and flawless. Jimmy John's success is built upon an unyielding commitment to quality coupled with an unbeatable, repeatable process.
We've got something that people crave. It's damn good. We promise an honestly good sandwich and deliver on that promise. We also tell it like it is. That's why customers have come to trust Jimmy John's. If we change who we are, be it through a dopey jingle or tablecloths or sun-dried tomato aioli, everyone will see through it in a heartbeat.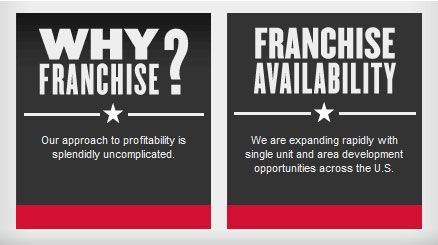 When you start a business in your garage and nurture it into an international franchise, that's ass kickin execution. When you work your way up from delivery driver to store owner, that's passion. And when you drive six hours out of your way to get a sandwich, that's passion. We've been committed to making the world's greatest gourmet sandwiches since day one and that's not about to change. As long as we're fanatical about Jimmy John's, customers will be fanatical about Jimmy John's.
Jimmy John's actively seeks highly-qualified individuals to become franchisees. Prior business experience, coupled with personal financial qualifications, individual motivation and a track record of success are important factors in our evaluation process.
All new franchisees participate in a 7 week training program. This consists of 3 weeks at the Jimmy John's Training Center located in Champaign, IL, and 4 weeks of real life management experience by way of our apprenticeship program in a franchised location. In addition, we will train your assistant manager in Champaign for three weeks at the training center. Once completed, franchisees receive regular updates to their training, including on site reviews.
Jimmy John's Gourmet Sandwiches – Rated #1 Sandwich Delivery Chain in America is rapidly expanding. To learn more, simply fill out the short Request Info Form.
Is this your franchise?
Contact us to unlock your franchise's page to add content and get leads!