Hot Dog on a Stick
Franchise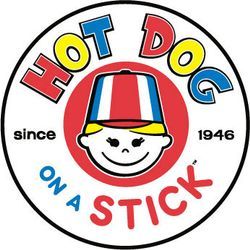 Hot Dog on a Stick™ We are famous for our hats, food, & fresh lemonade but we are most proud of our employees.
| | |
| --- | --- |
| | $100,000 |
| Investment | $100,000 - $1,000,000 |
| Units in operation | 78 |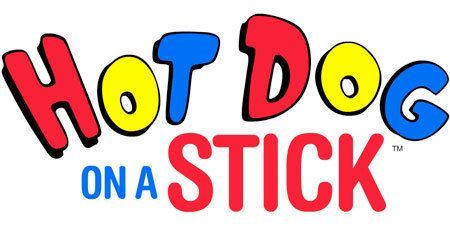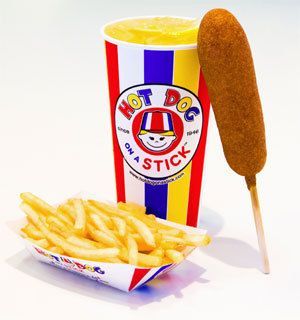 An American Icon since 1946, Hot Dog on a Stick™ is an amazing company that began as the entrepreneurial dream of Dave Barham. What began as a small beachfront store in Santa Monica has grown to over 100 locations in 11 states, as well as worldwide locations in Dubai, Guam, Korea, and Brazil! And that beachfront store in Santa Monica is STILL serving our famous food and lemonade to beachgoers today!
Hot Dog on a Stick™ has stayed true to its roots by still serving our original lemonade and hot dogs on a stick, and has grown to include cheese on a stick, French fries, funnel cake sticks, and even Nathan's Famous beef hot dogs! Today's menu still offers our original delicious products, that are still made fresh, to serve our hungry, loyal customers.
Hot Dog on a Stick™ serves the finest products, with the friendliest customer service around. Our employees are known for their cheery smiles, bright uniforms, and of course, the striped hat!!
About Us
An American icon since 1946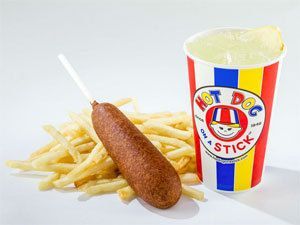 What began as an entrepreneurial dream on the beaches of Southern California has flourished into an organization of over 100 stores in 11 states.
1946 - Dave Barham opened his first store in 1946 on the beach in Santa Monica, and the location was originally called Party Puffs. This original location changed to Hot Dog on a Stick™, and is still selling sizzling hot dog on a stick and fresh, delicious lemonade to beachgoers today.
Hot Dog on a Stick™ Introduced Dave's first products were ice cream cones and lemonade. Then, using his mom's delicious cornbread recipe, Dave perfected the hot dog on a stick!
Dave hits the road
Next, he took these products on the road and started selling them at the county fairs. Dave hooked up portable hot dog stands to his Lincoln Continental and introduced fairgoers to Hot Dog on a Stick™.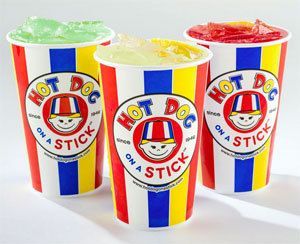 1973 - The fair atmosphere is where he perfected his lemonade and created his pride and joy, the uniforms! After trying polka dots and berets, straw hats and knee length shorts, Dave finally decided on our present day uniform of stripes and the hat! He called it "red, white and blue, with a splash of lemonade"!
Hotdog On A Stick Grows Eleven years later, Dave had opened over 25 stores in nine different states. This growth has continued all over the United States, from Hawaii and Alaska to Wyoming and New Mexico. Hot Dog on a Stick™ is now an incredible organization serving customers across the country with 100+ locations…and even though our menu has expanded, we are still selling Dave's famous hot dog on stick, and delicious fresh lemonade!
Today - We proudly wear Dave's trademark uniforms and continue to follow his mission, "To serve the highest quality product, by the friendliest employees, to the greatest number of people".
Why? Here's 5 reasons to Start
An Iconic American Brand - Started just steps from the beach in Santa Monica, California in 1946 and is still in operation today.
Simple, Easy to Execute Operations - Limited menu with easy prep. All items are made fresh to order and the lemonade is freshly squeezed throughout the day. Our delicious batter is made hourly so all stick items are dipped in front of the customer creating a fun experience for the entire family!
Best in Category Product and Customer Service - Strong reputation for our fresly made to order food and our FUN and friendly staff in colorful uniforms. Sure to Stick a Smile on Your Face!
Small Footprint Allows Greater Flexibility in Development - With an average store size of 600-700 square feet, Hot Dog on a Stick can fit in many unique locations.
Great for Multi-unit Ownership - Franchisees are empowered to create their own Hot Dog on a Stick store legacy within our well-defined designs standards.
For more information visit us at http://www.hotdogonastick.com/franchising/
Is this your franchise?
Contact us to unlock your franchise's page to add content and get leads!