Aspire Payments
Franchise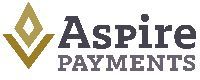 Aspire franchise program offers over 22 ways to make residual passive income with low capital requirements! Our high-tech kiosks, ATMs, and Payment Processing portals offer exceptional revenue abilities that can scale all over the United States. Becoming a franchisee also entitles you to a full marketing support team! Join Us!
| | |
| --- | --- |
| | $199,999 |
| | $25,000 |
| Units in operation | 3 |
| Franchising Since | 2017 |
About Us
What makes the ASPIRE Payments Franchise Opportunity unique?  There are More than 22 Ways to make residual income with ASPIRE Payment Platforms.  We have an Executive Team of dedicated business experts with decades of necessary experience in traditional and digital marketing, software development, credit card processing, ATM services, check cashing, and other electronic payment processing services.Being a part of the ASPIRE Payments Franchise Group gives you access to the infrastructure and support of a successful brand with a national network of resources to assist you in developing your portfolio.
When part of the team we offer marketing and lead generation support, financing solutions for cash and equipment, security assurance, legal services, advertising assistance, and mobile applications & web based portals to help manage and grow your business.
Industry - Electronic Payment Processing / Marketing
Hi-Tech Kiosk
Our Hi-Tech Kiosk Payment Centers offer multiple revenue streams and is a technology that is going to disrupt the check cashing, bill pay, and electronic payment processing space.  The Kiosk technology has taken seven figures and many years to develop the hardware & software along with national compliance requirements, regulations and standards. We are excited to share the opportunity and assist our franchisees in developing their Kiosk portfolio.
Services Offered:
Check Cashing
Issue Prepaid Debit Cards - Customers may purchase an instant issue prepaid debit card that can be loaded and used online or for instant use at any retailer
Prepaid VISA Debit Card Dispenser
Wire transfer to Mexico, South America, Central America, Europe & Asia
Advertising Platforms - Dual Monitors
Cell Phone - Allows customers to load their pay as you go phone, purchase pin/pinless products, and load airtime internationally in 150+ countries internationally
CryptoCurrencies - Bitcoin and Litecoin
PIN Debit Card Processing - EMV and PCI compliant
Mobile Modem and Routers for Cellular Connectivity
Credit Card Processing
When becoming an Aspire Payments Franchisee, you have access to our cutting edge, easy-to-sell credit card processing software and back office that integrates with electronic account boarding software, and ACH payroll services. This innovative platform is both web and mobile based, making it simple to use. For your convenience, we have multiple success managers ready to answer any questions, and to assist you in maximizing your residual potential on each and every account. Our Franchisee's are added to a structured system that provides strong daily & monthly bonuses, daily & weekly training calls, marketing collaterals, lead generation services, and a custom proposal software that makes winning deals easy.
We guarantee business owners $1000 that we will reduce their costs to process credit cards, will BUY contracts out of to $350, and have a lifetime price match guarantee on rates offered.
ATM Services
The ATM division within Aspire Payments makes it possible for anyone to grow and scale their own ATM portfolio through the utilization of our virtual terminal and google & android mobile application.
Our extremely competitive financing solutions cover equipment, cash needed to supply the ATMs, as well as armored car services for the logistics related to loading and servicing the machines for franchisees that want to be hands off.
When becoming an Aspire Payments Franchisee you receive 100% of the surcharge, have full access to our ATM Divisions support team, as well as access to our ATM Marketing and lead generation system.
The Opportunity
The Franchise fee is $25,000
With that you receive 1 ATM valued at $2500. We also reinvest $5000 back into web development, digital advertising, marketing Aspire Payments in your region to assist in getting contracts in place to drive revenue.
Corporate Identity Package (Branding, Business card design, Marketing collaterals, Envelope, Letterhead)
Web Design & Development
Content creation
Social media setup & marketing
Email Marketing campaigns designed and implemented
Web based & Mobile CRM and Back office
Sales & Marketing automation software
Facebook retargeting
Search engine optimization
Local directories setup
Google directory setup
Targeted Weekly leads
Legal Services
Dedicated success manager from 9am-5pm cst
24/7/365 Technical support
Benefits
Some benefits of partnering with Aspire Payments is getting access to our executive team, support network, trade secrets, intellectual property, proprietary, software & technology, financing solutions, and our proven lead generation & inbound marketing strategies.
Aspire Payments training programs have been designed and developed around each service offering to provide you with the knowledge, support, and experience needed to be sufficient in each area of the business. We provide you with multiple layers of support, and bridge any gaps with ongoing training and development.
Your SUCCESS is our GOAL!
The Aspire Payments franchise program can be a full-time or part-time business opportunity. Based on the level of commitment and budget for market growth our marketing & operations team we will then tailor a specific go to market strategy in your area working directly with you to develop your regional market.
Is this your franchise?
Contact us to unlock your franchise's page to add content and get leads!