RedBrick Pizza Kitchen Cafe
Franchise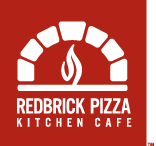 RedBrick Pizza® Kitchen Cafe serves the highest quality fire-roasted gourmet pizza, salads, and Italian specialties. We start with our hand-crafted dough made fresh daily, add organic red sauce and premium toppings, and fire-roast it at 1000 degrees to create a superior pizza with a delicate golden crust. Choose from one of our gourmet pizzas or create your own.
| | |
| --- | --- |
| | $1,000 |
| | $30 |
| Units in operation | 9 |
| Franchising Since | 2013 |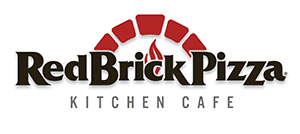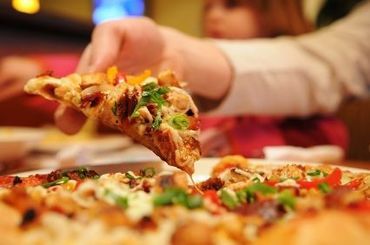 Fast-Casual + Pizza = Big Opportunity
Fast-casual pizza restaurants are the fastest growing segment of the pizza category. In a busy world, people appreciate the benefits of eating out, and food that's affordable, healthy, and quick is in high demand. RedBrick Pizza® delivers on all counts.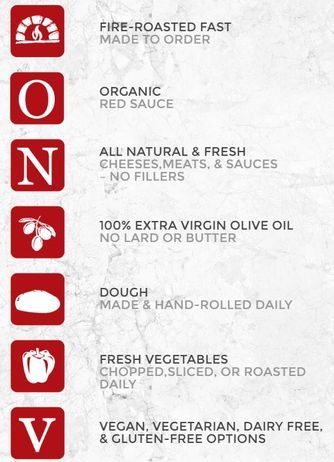 Why Choose RedBrick Pizza?
If you want to open a pizza restaurant but you want to do something a little different, RedBrick Pizza has the answer for you. Our brick oven baked pizza lets you offer your guests something out of the ordinary old world pizza artistry with a dash of the new. In addition to all the traditional toppings and flavors everyone knows and loves, we're constantly innovating. Whether your guests are looking for four cheese or Thai chicken, they will be satisfied.
Our pizzas bake in just 2 to 3 minutes in our 1000 degree brick ovens, meaning you can serve your hungry guests quickly. They will also be glad to know that we care about the ingredients that go into our pizzas. Our menu is free from butter, artificial flavoring, and MSG. Salads are chopped only when there ordered, and none of our dressings contain trans fats. In a time when guests are becoming increasingly aware of the connections between food and health. We believe that a health-conscious menu is essential to bottom line success.
Backed by World-Class Leadership
RedBrick Pizza® franchise is owned by the parent company BRIX Holdings LLC, a world-renowned team known for creating exceptional growth and improvement in a variety of restaurant franchises. Additionally BRIX Holdings, LLC. operates and supports RED MANGO Yogurt Cafe®, SMOOTHIE FACTORY Juice Bar® and SOUPER! SALAD!®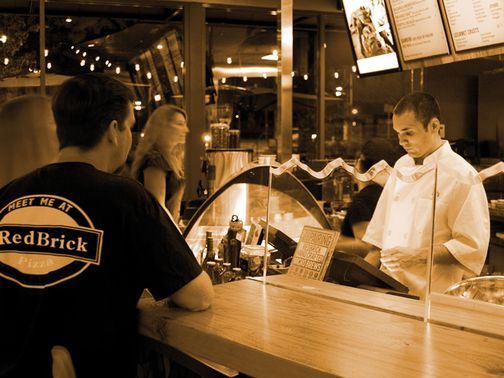 Training and Support
The secret ingredient to our success has always been our people. We align ourselves with franchisees who have what it takes to be successful, and we provide training and support every step of the way.
From the very beginning, we arrange to provide assistance with real estate site selection, store design and construction management. As the opening date draws closer, we offer two weeks of intensive training to teach you everything from store operations to business management.
Once your location is open, we continue to support you with a complete advertisement program, buying power through our relationships with major US vendors, and ongoing product development to keep your menu fresh. We also offer ongoing operations support, along with quality assurance visits to help prevent any major problems from creeping into the day-to-day operation of your pizza franchise.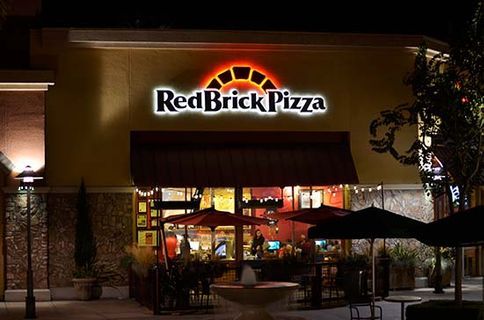 Growth Markets
RedBrick Pizza franchise is expanding, and we'd love to have you along for the ride. We currently have locations in California, Florida, and throughout the United States, but we are also aggressively moving towards more states in a nationwide expansion.
RedBrick Pizza Current & Expanding Markets: California, Texas, Arizona, Arkansas, Louisiana, Florida, Colorado, Illinois, New York.
Ask our sales manager by requesting free information about the special opportunities available in: Missouri, Kentucky, Nebraska, Illinois.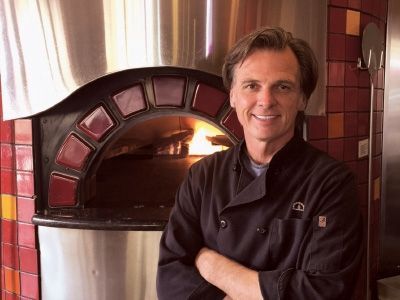 Our Ideal Candidiate
At RedBrick Pizza, we're looking for enthusiastic entrepreneurs who aren't afraid of a little hard work. Our franchisee training is extensive, but the most successful candidates have the following qualities:
Positive attitude and strong customer service values
A passion for quality food and ingredients
Ability to work within a system while handling a variety of unique day-to-day challenges
Strong management skills
A powerful drive to succeed
We have opportunities for both single-unit and multi-unit development, and costs and experience levels will depend on the option you choose. For multi-unit development, minimum investment will be higher, and we strongly prefer experienced candidates. For single-unit ownership, the investment is smaller and no pizza experience is required. Our system is turnkey and we'll tell you everything you need to know.
Testimonials
"RedBrick Pizza offers two incentives to potential franchisees: a straight forward business system with everything already laid out for you and national brand name recognition for a well-crafted product. As a RedBrick Pizza franchisee I get the opportunity to offer customers a superior and healthy product that I know they will enjoy."
-Jim Sickler Sr. Franchisee, RedBrick Pizza
"When you have 10 pizza chains on 10 corners, how do you differentiate yourself? RedBrick Pizza® classifies gourmet food as high quality, healthier, better-for-you pizza. We stand for full-flavored food that is baked in a brick oven, which not only tastes better, but also is nutritionally superior too. Once people taste our product, they are hooked and they come back.What differentiates RedBrick Pizza is our food quality. We are really focused on brick oven gourmet food. It's old world traditional Italian recipes with new world freshness added to it. And together that defines a new approach to gourmet food for today. It's not just gourmet meaning exceptional taste, but also nutritionally better for you."
–Jim Minidis, Founder, RedBrick Pizza
This information is not intended as an offer to sell, or the solicitation of an offer to buy, a franchise. It is for informational purposes only.If you are a resident of a U.S. state or a country, or wish to operate a franchise in a U.S. state or a country, that regulates the offer or sale of franchises or business opportunities, we will not offer you a franchise until we have complied with any applicable pre-sale registration and disclosure requirements in your jurisdiction. RedBrick Pizza FC LLC is the franchisor and is currently headquartered at 2811 McKinney Avenue, Suite 354, Dallas, Texas 75204.Prospective New York Franchisees: This advertisement is not an offering. An offering can only be made by a prospectus filed first with the Department of Law of the State of New York. Such filing does not constitute approval by the Department of Law.Florida Advertising Identification Number: BF50112 Minnesota State Registration Number: F-7326
Is this your franchise?
Contact us to unlock your franchise's page to add content and get leads!