Medical Franchise Opportunity
If you are looking for a new career and want to provide a valuable and necessary service to people in your community, look no further than a medical franchise. The billion-dollar medical industry is growing at a fast pace, and that is expected to continue as the number of people over the age of 60 in the US triples to two billion by 2050, an estimate from research by the United Nations. Simply put, there will always be a need for medical services as long as there are people, so the potential customer base is incredibly strong in this industry segment. A medical franchise business comes in many forms, so you'll need to decide exactly what you're looking for in terms of your personal interest, experience, preferences and desired lifestyle. Companies in this industry include medical massage franchises, chiropractic franchises, hearing aid franchises, dental care franchises, physical therapy franchises and companies that specialize, such as franchises that provide feet health services or repair medical devices. There are also brands that provide at-home health care to seniors or other people that need it, brands that provide consultation and billing services to medical organizations, eye care brands and companies that provide weight loss and nutritional services. Whether or not you need related experience for a brand in this industry varies by company. In some cases, you will be able to hire the people with the experience you need to fulfill roles in the company that you're not qualified for. In other cases, when special licensing and other educational requirements don't apply, you should be able to receive full training and support from your franchiser. Don't rule an opportunity out based on your inexperience before you read all the relevant company materials. The right medical brand for you will depend on what type of work you want to do, your desired customer base and your lifestyle requirements, so you'll need to identify all of these before deciding on your franchise. A medical device company, for example, may only work with medical professionals, while a physical therapy brand will have individual clients as its customer base. Some medical franchises have a mobile component, but many have fixed locations. In all cases, you'll get to provide essential services to people that need them. If you're interested in starting a new career in the medical franchise industry, take a look at our listings today to find the right fit close to home.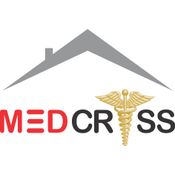 Medcross Healthcare
Medcross provides much-needed solutions to the healthcare marketplace – and a fulfilling opportunity that will bring you personal and professional rewards every day.
READ MORE
$100,001 - $200,000