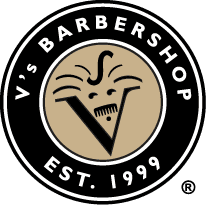 Remember the old-time barber shop that Dad took you to when you were a kid for a hair cut? By now, most of them have vanished...
In November 1999, V's Barbershop & Shoeshine® opened in Phoenix and the great old-time barbershop was reborn. From the real barber chairs, to the old fashioned hot lather and straight razor shave, to the head and neck massage, V's Barbershop sets a new standard.
Our barbers provide traditional and short hair cuts, as well as contemporary men's haircut styles. At V's, we bring you the nostalgia of yesteryear with a modern twist.
Why a V's Barbershop Franchise?
Great Success Rate: Not one franchise location has closed.
Best Of The Barbershops: Our average sales per store are among the highest in the industry. Take a look at Item 19 of our Franchise Disclosure Document and see the difference!
Keep Your Job: In many circumstances, franchisee's can be 'semi-absentee' owners.
Protected Territory: Up to 5 mile radius, throughout the term of your franchise agreement.
Reduced Royalties: 5% rate drops to 2.5% for sales over $500k.
Dedicated Support: V's places franchisee support at the forefront of our mission. Simply put, we are there with you every step of the way.
Close Relationship: V's does not view franchisees as a number – you are part of the V's family and treated as such!
Continuous Growth: No matter what the economy looks like, hair keeps growing!
No Waste: Unlike a restaurant franchise, nothing spoils.
Unconsolidated Industry: Our competitors are largely made up of "mom and pop" shops and low-cost, convenience, salon-style shops.
Old-School Cool: V's Barbershops are upscale venues that resonate with successful men who value their appearance and take pride in their grooming habits. There is no "quick cut" or beauty salon feel to any V's Barbershops.
Our average unit volumes:

2012: $360,576
2013: $379,690
2014: $417,083