Hybrid Franchise Option
Owner operators who market and sell to their local customers directly.
.
We teach you how to sell! We provide our hybrid franchise owners the most intensive sales and marketing training for growing a janitorial business. You will be fully trained on how to market and secure client accounts on your own.
You attend The Sales Appointment, with the Decision Maker of the facility. This allows for you to create a relationship, speak to them on their wants, needs, and concerns and educate them on why Jantize is the best choice for their janitorial services.
.
Grow your Business with our Hybrid Franchise Support
There are benefits to the Hybrid Franchise Program. It allows YOU the BUSINESS OWNER to be the face of your business. We work directly with you to grow your business, establish the client relationships, and be the decision maker for services and pricing.
.
Flexibility
Starting a janitorial franchise is your opportunity to determine your own schedule and growth goals.
.
Financial Freedom
With multi-revenue streams, our scalable unit franchise structure will help you become a successful business owner.
.
Lifestyle & Challenge
Jantize can give you the path to building a janitorial business you're proud of and excited about – every day.
.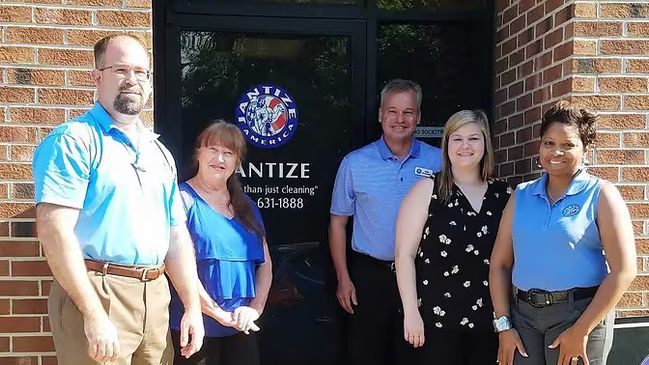 .
What's Included in the Hybrid Franchise?
The initial Franchise Fee buys the franchisee the exclusive rights to use the Jantize America brand. This fee also covers your initial training, which is hosted at our head office and consists of modules that combine classroom, on-the-job, and on-site learning.
.
Cleaning Supplies & Equipment:
Our high-quality, environmentally friendly products and our high-tech equipment are what make us stand out as a cleaning company franchise. You'll spend between $3,500-$5,000 on cleaning supplies and equipment, with additional investments as you grow.
.
* Additional Start-up Funds will be required for Marketing, Sales, Office, Insurance, etc.
.
Manage Your Janitorial Team
Manage Your Commercial Clients
Complete Training Available
Unlimited Growth Potential
.
We provide the tools, as well as a business coach, to help our franchise owners be competitive and profitable. Jantize will train you on the whole sales process from prospecting to closing, and make sure you understand the KPI's of your business.