Master Franchises
Master franchises offer long term success possibilities. Rather than purchase one franchise store or business, with a master franchise you purchase the rights to a franchise brand and develop it within a specific region. More of a hands-on approach to franchising, a master franchise may require a franchisee to supply training, promotional programs and lease negotiations, and in return the franchisee receives at least a portion of the franchise fees from franchise sales. Browse through our selection of Master Franchise Opportunities today and find the business opportunity that's right for you.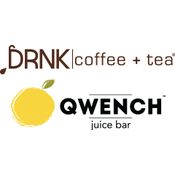 DRNK coffee + tea / QWENCH juice bar
Born in Hollywood, DRNK coffee + tea and QWENCH juice bar have since grown into two of the most popular beverage spots for the millennials of Southern California.