Ciggies Distributing
Business Opportunity
Get in on the ground floor of an extremely profitable business with a Ciggies electronic cigarettes...
| | |
| --- | --- |
| | $1,000 |
| Investment | $10,001 - $25,000 |

Ciggies Electronic Cigarette Distributorship Opportunity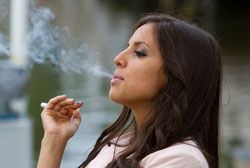 Over 20% of the United States population smokes cigarettes. That equates to more than 60million smokers nationwide. Americans spend upwards of $90 billion dollars on tobaccoproducts annually. That means nearly 400 billion cigarettes are sold every year.
Cigarette smoke contains more than 4,000 chemicals including cyanide, benzene,formaldehyde, and ammonia.
Ciggies electronic cigarettes accomplish this without any tobacco or ignition which meansthere is no smoke or fire.
Ciggies electronic cigarettes actually produce a vapor that contains nicotine and flavoringto produce a sensation that simulates smoking. There is no lingering odor and the usergets an experience very similar to smoking an actual cigarette.
Nearly $500 million dollars worth of electronic cigarettes were sold in the US during 2011.Electronic cigarette sales have increased by about 30 percent every year since theirintroduction in 2007.
More than half of all electronic cigarettes are sold online leaving a huge gap in the retailmarket.
As a Ciggies electronic cigarette distributor, you can get in on the ground floor of thisexciting and extremely profitable business. Territories are limited and selling fast so fill outthe form today to receive more information on this exciting opportunity.
The Opportunity
The Ciggies electronic cigarette distributorship includes everything you need to start andrun your own home based electronic cigarette distributorship.
Each Ciggies profit center includes:
A complete turnkey business
Disposable E-cigarettes
Rechargeable E-cigarette starter kits
E-cigarette refill cartridges
Countertop retail display
Territory (non-exclusive)
Shipping and handling
True wholesale reorder pricing
Lowest retail pricing
Large profit margins
Location assistance (secretarial appointment setting service)
Inventory forms
Marketing materials
Website affiliate account
Little to no overhead
No employees
Part time or full time business
Training
Ongoing support from our distributor support team
There are never any franchise fees, royalties, expensive vending machines orequipment to purchase. This is a great home based business that can be serviced in a fewhours per week. Ciggies distributors can also make this into a full time business and growto as many Ciggies profit centers as you would like!
Once you set up your Ciggies Profit centers, you visit your locations on a regular basis,restock as needed and collect your cash for what has been sold.
This is a very simple, easy business with tremendous growth potential. The electroniccigarette business is still a ground floor opportunity. Non-exclusive territories are sellingfast so it is important to act now while the best locations are still available.
Is this your franchise?
Contact us to unlock your franchise's page to add content and get leads!