Sport Clips Haircuts Team Leader Matt Kneeland
Matt Kneeland, a Sport Clips HaircutsTeam Leader (franchisee), was a long-time, successful home medical equipmentbusiness owner. But, he says he made the change from healthcare to haircarewhen government regulations began "forcing businesses like his to consolidateor sell." He says, "Good business people are pushed out because ofregulations," and the new laws have "flattened an industry full ofleaders." Kneeland started his previous business of renting oxygen andmedical equipment in 1996 and grew that business to 12 locations before sellingit in 2014. 
Kneeland and his wife purchased 10 SportClips store licenses later that year and added a new location in 2015. They'vesince acquired two additional locations in the Fresno, California market andare negotiating two additional leases to open later this year. 
He says franchising is a good fit because hisbusiness skills transferred directly, and the primary learning curve wasbecoming familiar with the successful systems Sport Clips has set inplace. "In the home medical equipment industry, being an independent, youhad to figure out everything on your own," Kneeland says. "That's a big job,and I thought that I'd take a path paved by others this time around." TheKneelands brought with them the tools used in their previous work to run a goodbusiness. He says it's worked out well for them because they "don't havethe healthcare laws kicking them in the face every day." 
Kneeland says he researched the franchiseconcept that would be a good fit and spent time with Sport Clips team membersand franchisees. During that time, he determined the franchise would offer hima great level of support, which he says has proven to be the case, along with astrong network of franchisees he's found in his state of California. Kneelandsays tapping into the other franchisees' experiences and successes has had apositive impact, as has the team already assembled at the existing locations inwhich he invested. He also says the combined knowledge has benefitted both operationsand marketing efforts.
As any business-savvy pro such as Kneelandknows, there are challenges in opening a business, even with the support of a seasonedfranchise. He advises others: 
1)    Don't begin under-funded.
2)    No business runs itself, so be an active, interested investor. 
Kneeland refers to the axiom "the harder Iwork, the luckier I get," which he says is definitely true in his case. He'sworking now to grow his management team saying, "The big plus here is that inbuilding this organization, it gives our stylists room to move up and find roomto grow their personal careers." Kneeland's goal is to have a dozen Sport Clipslocations in central California, and he hopes to reach that goal within thenext five years.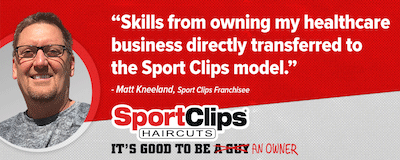 Franchisee opens the second HYPOXI® studio
Caroline M. HYPOXI® Houston. After opening the first HYPOXI® Studio in Sugar Land, Houston TX the end of 2010, Studio Owner Caroline M., decided to open a second HYPOXI® Studio in Houston's downtown area.
Senior Helpers Franchisee - Kathryn Erskine
Recognized dementia trainer Kathryn Erskine has joined leading elder care provider Senior Helpers as a franchisee. Her new location will be in the City of San Gabriel Valley in California.
Darren Williams of Anago Cleaning Systems
Darren Williams had a "light bulb" moment when he learned that professional cleaning service companies were getting more than $30,000 per month to handle his building.