Spadea Lignana, Attorneys at Law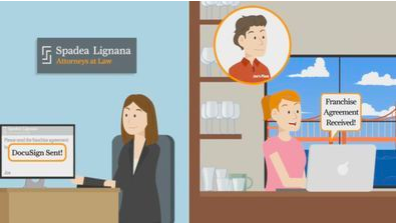 About Us
Spadea Lignana is a boutique franchise law firm helping franchisors and franchisees nationwide. Some of our partners have held executive positions with national franchise brands, while others were even franchisees themselves prior to becoming attorneys. That real-world business experience provides a unique perspective to our franchisor and franchisee clients. In many cases, we can structure a flat fee for our services to help you budget accordingly.

Practice Areas
1. Starting a Franchise
FDD and Franchise Agreement Reviews
Compliance Systems for Franchisors
Buying or Selling an Existing Franchise
State Registrations for Franchisors
International Franchising
Franchise Private Equity Acquisitions
Termination of a Franchise Agreement
2. Lease Negotiation
3. Business Litigation
4. Business Law
5. Buying or Selling a Business
Contact Us
212-525-1165 Ext. 121 • sdevine@spadealaw.com
MARLANE GRAPHICS
Marlane Graphics provies a full range of commercial printing services. Established in 1987, Marlane has a long history of building lasting business relationships with our clients. From personalized design support, through high quality execution, through customized delivery - our service is what sets us apart. Every job, big or small, gets that same dedication to quality and service.