Site Selection Secrets for Franchise Tenants
You've likely heard the adage, "location, location, location". The site that you choose to set up shop as a franchisee can – ultimately – spell success or failure for your business. Franchisors can offer name recognition, marketing support, and/or complete franchisee training; however, not all franchisors offer any specific commercial real estate help. Instead, they often "rubber stamp" a chosen site (often without even seeing it).
The topic of site selection is so important that we have devoted an entire chapter to it in our book, Negotiating Commercial Leases & Renewals  FOR DUMMIES. Here are a few tips to keep in mind:
1. Allow enough time so that you're not making rushed decisions.  Site selection, for a new business or franchise, should, typically, begin six to nine months in advance of when you wish to open. With touring commercial properties, weighing the pros and cons of each location, negotiating terms and conditions in an Offer to Lease (or a Formal Lease), and allowing for Murphy's Law (anything that can go wrong will go wrong), the process can often take much longer than you had initially anticipated.
2. Don't let one agent show you space all over town. Franchise tenants often fail to realize that agents/brokers typically work for landlords who pay them a healthy commission on lease deals signed and closed. When one agent shows you another agent's listings, this will effectively create commission-splitting between the property's listing agent and the leasing agent. There's a great deal of difference between the agent working with prospective and new franchisees (showing properties, supplying paperwork etc.) and the agent working for the landlord.
3. Make your leasing inquiry by calling the "For Lease" number on the property sign. The name listed on the exterior sign is, typically, the name of the property's listing agent – and who you will want to meet and negotiate with directly. The Lease Coach also recommends that franchisee tenants tour prospective sites in reverse order of preference (from worst to best). This way, you will become more confident, ask better questions and be more in control of the leasing process by the time you react to your favorite site.
4. Don't give "buying signals" and telegraph your intentions.  Keep your hands close to your vest when viewing potential commercial sites. Before even meeting the leasing representative and booking a site tour, ask the rep to e-mail you a site plan and other leasing specifics. Avoid thinking out loud or making leading comments (i.e. "Before I move in, I would like to have the place painted"). These types of comments can easily work against you. On a related note, resist answering any questions from the agent about your budget for rental payments. If you answer with a higher amount than the agent has in mind, you can commit yourself.
Franchisees conducting site selection may find themselves weighing a better location at a higher rent versus a lesser location at a lower rent. If these two choices are close, we often recommend franchise tenants choose the better location. Our job, after all, is to select the best commercial site for the franchisee and the one best for future business.
Keep in mind that landlords sometimes prefer to lease their worst space(s) first and save the best space(s) for last. Sometimes, the individual unit or location you lease within a shopping centre or strip mall is more important that the mall itself – or at least equally important. Know that lease rates within a building can vary two to three times depending on unit desirability, walk or drive-by traffic flow, space shape, quality of neighboring tenants, anchor tenants and your operating status as an independent or a national chain name (franchisees often get the preferential nod from landlords). While you don't always get what you pay for in leasing commercial space, you normally don't get more than you pay for either.
Note that if you are an office or industrial-type tenant, location is not as critical. Therefore, you should have the upper hand with negotiations. Also note, if you already own a business or franchise but are considering relocating when your current lease expires, start your site selection at least nine months ahead. If you cannot get a satisfactory lease renewal, you will need this time to select alternative sites and negotiate a new lease elsewhere.
For a copy of our free CD, Leasing Do's & Don'ts for Franchise Tenants, please e-mail your request to DaleWillerton@TheLeaseCoach.com.
Dale Willerton and Jeff Grandfield - The Lease Coach are Commercial Lease Consultants who work exclusively for tenants. Dale and Jeff are professional speakers and co-authors of Negotiating Commercial Leases & Renewals For Dummies (Wiley, 2013). Got a leasing question? Need help with your new lease or renewal? Call 1-800-738-9202, e-mail DaleWillerton@TheLeaseCoach.com or visit www.TheLeaseCoach.com.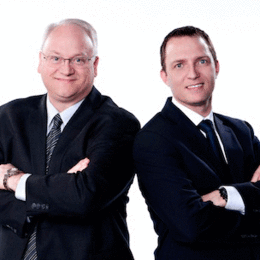 Dale Willerton and Jeff Grandfield
The Lease Coach
Franchising Technology That Disrupts Business Models
Technology in franchising has merged online concepts with professional service delivery in many other industries. There has been disruption in the fields of accounting and bookkeeping, business and medical counseling and even inviting a life coach or yogi into one's living room.
Presenting and Negotiating a Lease Proposal – For Franchise Tenants
As you are considering a franchise opportunity, you will be more a more desirable tenant. Landlords recognize that franchise systems are proven, well thought out, and often stay in business much longer and achieve much higher rates of success that many independent business concepts.