SBA Loan Group
About Us
Our company was founded around one goal: to help package and place business loans for small, independent businesspeople in niche industries. Unlike big banks, we take a personal approach and see our clients not as numbers, but as real people facing real challenges.
Today, we are one of the largest packagers of small business loans in the country.  Our failure rate with our customers remains one of the lowest in the nation. Our management team and founders have collectively over 35 years of experience in assisting and obtaining SBA-backed loans for our customers. Many of our key managers have run small businesses themselves and intimately understand your needs and challenges.
As a packager of SBA loans, we are not tied to any singular bank. Instead, our company works alongside a network of over 50 banks to help meet your loan needs. As a result, we only work for you–our client–and not any bank or financial institution, this benefits you as the customer. If you went to a bank and were denied, you would have to start the process all over and find another bank. By working with us, the banks in our network are favorable towards our customers.
Our automated process and "Lending Officer" friendly underwriting package makes a difficult, rule-laden process easy for you – our client.
Loans often close within 45 to 60 days.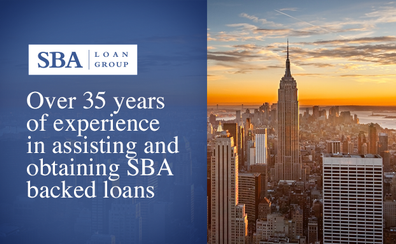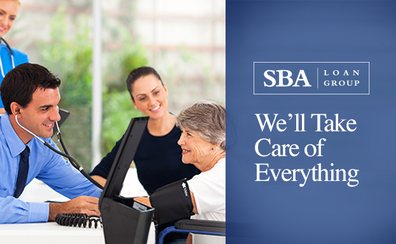 Our Funding Process
We are one of the country's leading SBA Loan Provider, Placement and Consulting firms. Our 1, 2, 3 systematized funding process and access to our network of participating Banks ensures you timely financing for your projects and business. Our process begins with a simple phone call with one of our highly trained Loan Specialists. In less than a ten minute call, we can see if you qualify for an SBA Loan. If you do not, we often give you and your business valuable advice on what is needed to qualify for a loan.
If you do qualify, we email you material to retain us - easy to fill out forms which you email or fax back to us with our nominal retainer fee set by the SBA.
Once engaged our data department will work with you to gather all the data needed for us to put together an underwriting and loan application.
When the file is complete we render a full analysis and apply for you to one of the banks in our large banking network. We stay with you untill funded. This often happen in less than 60 days
Once you receive the loan we can assist you in the future to increase the Loan or take advantage of other SBA related programs.
iFranchise Group
Franchise Your Business. Our franchise consulting services are primarily geared toward three markets: Companies seeking to franchise a business, companies who are already franchising, and manufacturers selling through dealers or distributors.