Presenting and Negotiating a Lease Proposal – For Franchise Tenants
As we explain in our book, Negotiating Commercial Leases & Renewals FOR DUMMIES, there's more than one way to present and negotiate a lease proposal. Some ways are right for some situations and not for others. If this is your first franchised business, or you've only negotiated one or two commercial leases before, you're more likely to make critical mistakes at various junctures of the process.
One of the first things you'll need to decide is who will be in charge of your lease negotiations. If you go this alone, you'll be negotiating against someone else. In our experience, we've seen tenants negotiate leases against the landlord's listing agent (especially on a new lease) or an in-house leasing rep – perhaps even a property manager. The more properties the landlord owns, the more likely that you will work with one of the landlord's employees or representatives.
Once you know all the players in your negotiations, you can begin to decide how you want the negotiation process to unfold. Before you go into lease negotiations ready to fight for what you want, you will need to have the following already determined:
• When you want to open your business
• How much rent you feel you can afford to pay
• How much it will cost you (approximately) to build out the commercial space
• Where you will buy any necessary equipment
• Whether you will qualify for any financing
• How much area you actually want to lease
• What street, community, or city you want to do business in
All of these issues can come up during lease negotiations and if you don't the answers, the landlord (or his representative) may not take you seriously. One of the best ways to appear as a legitimate tenant is to talk to the landlord and/or real estate agent about the franchised business you are going to open – not the franchised business you think you're going to open or would like to open. Remember as well that sometimes tenants think they can bypass the landlord's leasing agent and go directly to the landlord to get a lower rent deal (thinking they can help the landlord avoid paying a commission to the agent). This rarely works because the landlord and the agent already have a contract. The listing agreement (most of the time) says the agent is paid regardless of who secures the tenant. There are exceptions, but if the landlord gives a listing agreement to an agent, they've already budgeted and decided to pay the commissions.
As you are considering a franchise opportunity, you will be more a more desirable tenant. Landlords recognize that franchise systems are proven, well thought out, and often stay in business much longer and achieve much higher rates of success that many independent business concepts. Broadcast this fact to a landlord and, if you play your cards right, this can translate into a superior lease deal all around plus you'll have a leg up on other prospective tenants who may be vying to lease the same space that you are looking at.
When you are ready to present a lease proposal, there are three common options available to you:
Using a letter proposal: This is, typically, informal and not binding but serves as an expression of interest containing very basic terms or simply interest in the property itself and inviting a more formal proposal from the landlord. This should be drafted on your own company letterhead. If you have not yet formed a company or don't have a business or brand yet, type your letter proposal in a business format on plain paper.
Considering a Letter of Intent (LOI): LOI's are common and are often drafted up by agents asking for your signature that they will then present to the landlord. This isn't necessarily beneficial for you, because it appears as if you are pursuing the landlord – the opposite of what you want. While an LOI is not legally binding either, if you neglect to include some important condition in it, the landlord might accuse you of negotiating in bad faith if you bring it up later. Once you've put anything in writing, you are often boxed into a corner.
Utilizing an Offer to Lease: When you're ready to enter into a formal lease agreement with the landlord, doing this is generally the best way to proceed. Again, Offers to Lease can be written from a tenant to a landlord or from a landlord to a tenant. In most cases, the wording is to request the landlord or their representative to actually draft it with the terms they would be prepared to move forward with – therefore, representing their initial offer for your review. You can now revise and counter these documents as you see fit as your counter-offer. Unlike a letter proposal or an LOI, an Offer to Lease is legally binding – which is why it's the preferred method.
For a copy of our free CD, Leasing Do's & Don'ts for Franchise Tenants, please e-mail your request to JeffGrandfield@TheLeaseCoach.com.
Dale Willerton and Jeff Grandfield - The Lease Coach are Commercial Lease Consultants who work exclusively for tenants. Dale and Jeff are professional speakers and co-authors of Negotiating Commercial Leases & Renewals FOR DUMMIES (Wiley, 2013). Got a leasing question? Need help with your new lease or renewal? Call 1-800-738-9202, e-mail DaleWillerton@TheLeaseCoach.com or visit www.TheLeaseCoach.com.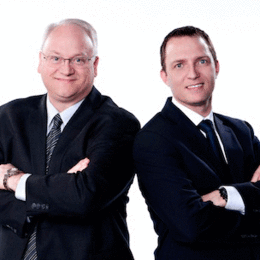 Dale Willerton and Jeff Grandfield
The Lease Coach
The Stats on Automotive Franchises
Automotive franchises are a great choice for a franchise to buy. Read to learn all the stats on automotive franchises and which automotive franchises are better for you.