John McAuliffe of Sylvan Learning
1. Tell us about the Sylvan Learning concept.
Sylvan operates using a four-step learning progression: Assess - Plan - Teach - Apply. First, we pinpoint the needs of the child, assessing their strengths and weaknesses. We then evaluate the results and create an individualized plan to meet the child right where they are. Using our interactive SylvanSync digital platform we then teach based on the child's individual content and pacing needs. Finally, students have additional opportunities with mySylvan, the digital portal, through which they can apply concepts learned in-center using online games and activities to accelerate mastery.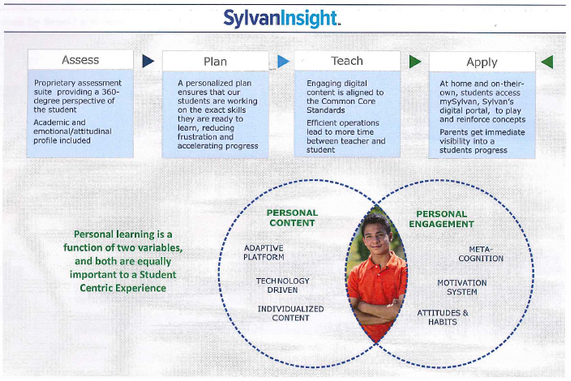 2. How and when did you become involved with Sylvan Learning?
I began as the chief financial officer of Educate Online, an affiliated company to Sylvan, in 2007. I then became the CFO of Educate in 2010.
3. What was your background prior to joining Sylvan Learning?
Prior to Sylvan I was the chief operating officer at CapStar, a test development and delivery company, which was subsequently sold to Prometric, a computer-based testing company. I became the CFO of Prometric before joining Educate Online as the CFO in 2007.
4. What are some of the advantages in being a Sylvan Learning franchisee?
Sylvan has the best brand in the industry and offers the widest breadth of services: tutoring for a variety of subjects such as math, reading, test prep and study skills, plus enrichment courses in the STEM arena. Sylvan boasts the most profitable and flexible business model for franchisees. Our delivery of services using our SylvanSync technology platform is a competitive advantage. And, of course, the opportunity to make a difference in children's lives allows the franchisees to marry their business acumen with their passion for education.
5. Who is your ideal franchisee?
Our ideal franchisee has an entrepreneurial spirit and a passion for education, understanding the advantages that a good education can bring to a child's life.
6. Tell us a little about the education and tutoring market?
The market is competitive and growing. Its growth is fast-paced, as are most technologically-driven areas these days, so the model is ever-changing. Technology is taking an even bigger role than before. Additionally, areas of interest are expanding to include things like STEM. The key to success is to stay abreast of the changes in demand in the market.
7. What are some of the greatest lessons you've learned in growing this franchise?
Foreseeing and managing the constantly-changing demand as well as economic fluctuations has been a learning experience. We try to be constantly critical of our content so that our model is relevant and attractive to the demands of families and students. Technology matters immensely; without an efficient and robust technology platform your content – no matter how great – won't be accessible and user-friendly. Finally, one of the most important lessons for me has been to work with the franchisees. We make sure they know we are on their side and, in return, they thrive, providing honest feedback and relentless creative energy for the business.
8. Do you have a mentor and is there someone you use for inspiration?
I try to seek advice from many different people, both inside and outside of the education sector. I also read a lot about the education industry. We are driven by our product's excellence, so I try to meet with other product-based companies to try and glean what methods of content and delivery are most successful.
9. What advice do you have for someone looking to acquire a franchise?
You have to really understand your options – compare all the competitors. Look for a wide range of services. Note the kind of support you will receive from corporate. Don't underestimate the power of brand recognition. Try to get a sense of how the franchisor has adapted/will adapt to changing conditions.
10. In your opinion, why do you think that Sylvan Learning would be a great opportunity for someone?
Sylvan is the best brand in the industry. We have the most flexible and profitable business model for franchisees. Our technology is second to none. Our breadth of products exceeds that of our competitors. We are a passionate group of people – both throughout the system and working at the corporate office. We make a difference in the lives of thousands of children every day.