Interview with Nick Molina - CEO of Vaporfi
Nick is currently the CEO of International Vapor Group. He started with International Vapor Group in early 2010 after taking a 3-year sabbatical. He is an entrepreneurial, results-driven CEO with hands-on experience and proven success in start-ups, public companies, mergers and acquisitions, Online & Offline Marketing, IPOs and fundraising. Nick is the recipient of numerous awards including the Inc. 500 Fastest Growing Company Award for four consecutive years and The Greater Miami Chamber of Commerce Cutting Edge award among others. He is a graduate of the University of Miami.
Nick has a proactive entrepreneurial track record, from co-founding Let's Talk Cellular & Wireless, Inc. ("LTCW"), the nation's largest specialty retailer of wireless products, to launching Auto Finance of America & Carlender.com, a provider of automotive financing and founding WebClick Concepts, Inc., an online performance-based customer acquisition firm that focused primarily in the telecom industry, his professional growth and development speaks for itself.
1. Tell us about the Vaporfi concept.
All Vaporfi stores are alluring, attractive, clean, and modern. The staff is knowledgeable and well versed in Vaporfi products and the industry in general. Vaporfi's high quality products and 100% USA e-liquid sets them apart from other shops and Vaporfi makes sure to accommodate for every budget. When you walk by a Vaporfi, you'll want to walk in and talk to the friendly face behind the counter – that's the difference. Vaporfi is helping people from all walks of life make the switch. Vaporfi is certainly not "just another vape shop", and the Vaporfi concept corroborate that notion.
2. How and when did you become involved with Vaporfi?
I was a partner in a company that sold wellness products direct to consumers. There was some early news about this new electronic cigarette that people could use to switch from combustible cigarettes. I quickly realized that this product was not only a great feel-good product as we helped people switch to a better smoking alternative, it was a product that came along with a great business model. Smokers are traditionally very brand-loyal and if we can acquire customers early on, we can service their vaping needs for a very long time. This "residual" component along with the nature of the product, made this a very attractive business endeavor.
3. What was your background prior to joining Vaporfi?
I began my entrepreneurial career in 1989, at the age of 21, when I co-founded Let's Talk Cellular & Wireless, Inc. ("LTCW"), the nation's largest specialty retailer of wireless products and services. The company was subsequently sold in 2000 to Nextel Communications. In late 1998, I left LTCW to launch Auto Finance of America & Carlender.com, a provider of automotive financing. In July of 2000, both companies were consolidated and successfully sold. In 2001, I founded WebClick Concepts, Inc., an online performance-based customer acquisition firm that focused primarily in the telecom industry. In 2004, WebClick Concepts spun off a division called Rapid Satellite to market consumer satellite products and services including DIRECTV, Dish Network, DIRECWAY/HughesNet and SIRIUS Satellite Radio. The company was sold in 2006 to Circuit City Stores, Inc.
4. What are some of the advantages in being a Vaporfi franchisee?
If you're searching for a way to get your foot in the door of the booming vaping industry, you may want to consider a Vaporfi franchise backed by International Vapor Group. Not only does Vaporfi manufacture the highest quality and most recognized devices on the market, but our management team has a combined 100+ years of experience in manufacturing, distribution and retail. From the top, down, our team of retail and sales experts are here for you every step of the way. You can count on exceptional support
including:
Management expertise: Our VP of Store Operations, Cortni Lewis, has over 20 years of experience in retail and is dedicated to ensuring that all awarded franchisees are given the tools they need to run a successful retail business. Training from masters: Our training managers know the 'in's, 'out's, and all the 'in-betweens of the vapor industry. They are sales experts, business owners, store managers, and at your side every step of the way. Streamlined process: All Vaporfi franchise owners are introduced to their project coordinator the day they are awarded a franchise. From that point on, they have a committed guide who will help them up until the day their doors open for business. Industry-leading partners: As an industry veteran, Vaporfi ensures that their franchise owners work with the cream of the crop when it comes to opening their business. From a powerful worldwide real estate network at Newmark Grubb Knight Frank to assist in site selection to masterfully crafted millwork with Randal Retail Group, Vaporfi takes the guesswork out of selecting the best possible vendor.
5. Who is your ideal franchisee?
Vaporfi seeks a person with strong motivation and drive to achieve success, someone who exudes confidence and enthusiasm for Vaporfi, its products and the vaping industry, not merely a desire to make a profit. The ideal franchisee does not necessarily have all the administrative or entrepreneurial skills necessary to start, develop and operate a viable business from scratch, but is willing to learn and take direction from Vaporfi.
6. Tell us a little about the vaping market?
Vaping's popularity has grown exponentially since its market inception a few short years ago. The numbers are in, and they paint a picture of consumers increasingly learning the benefits and moving away from traditional tobacco cigarettes by the masses.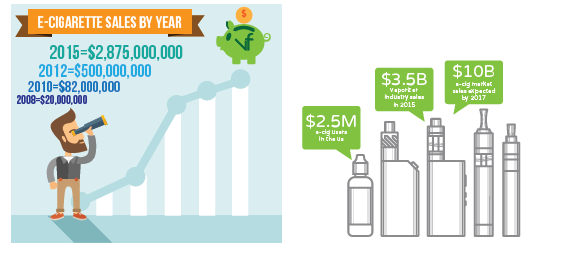 7. What are some of the greatest lessons you've learned in growing this franchise?
I've learned many things but the one that stands out the most is that we truly need to look at our franchisees as partners rather than customers. As partners, our franchisees can provide us with excellent feedback that can make the entire organization better. Their interests are very aligned with ours and that always makes for a great partner. They are truly a critical part of our organization on many levels.
8. Do you have a mentor and is there someone you use for inspiration?
My late father is my mentor. While he was an uneducated immigrant, he taught me the value of hard work and integrity. It seems very cliché, but it's absolutely on point and it works for me.
9. What advice do you have for someone looking to acquire a Franchise?
Buying a franchise is a serious investment. If you are considering a franchise purchase, it's very important that you learn as much as you can about the business. It is imperative that franchisees perform their due diligence and understand the extent of their commitment. Look at the management team very closely. Who is running the company? What kind of people are they? Can you trust them? These are all things you need to get comfortable with.
10. In your opinion, why do you think that Vaporfi would be a great opportunity for someone?
franchisee's every step of the way. Since we control the production process of our vapor devices, accessories, and e-liquids, we're able to offer a low overhead business model, which means more savings and profit for you. Finally, customers are always coming back for more. Our durable devices and exclusive e-liquid flavor blending options keep customers returning to try new flavors, pick up their regulars or try out the hottest new device on the market.