Five Questions You Must Ask Your Franchisor before Leasing Commercial Space
Joining a proven franchise system sounds like a golden ticket to many entrepreneurs. Eager prospective franchisees should, however, look before they leap and question before they lease. These franchisees will need to know a great deal about the franchisor's operations, experience, training programs, ongoing support, as well as the franchisor's role in commercial real estate matters prior to their signing of any agreements.
Before conducting site selection for your new franchise, here are a number of questions that you will need to ask in advance:
What role(s) will the franchisor and franchisee play in the site selection and leasing process?

One reason so many franchisees get upset with their franchisor is the lack of defined roles each party will play in the process. Some franchisors truly provide next to no real estate/leasing help at all. Time drags on with no deal(s) being made simply because there was no timeline checklist or targets ever created. Other franchisors say they will handle most of the leasing process but do not deliver. Alternatively, other franchisors may hand the job over to a real estate agent who may care more about his/her commission than your long-term viability.

Will the franchisor sign the Head Lease and sublet the space to the franchisee – or will it be the franchisee alone who signs the lease? Whichever party signs the Head Lease will assume the responsibility for the lease. Most franchisors want to avoid liability if the franchisee fails; therefore, more often than not, the franchisee solely signs the Head Lease. Ideally, the franchisee would want to sign the Head Lease to retain as much control as possible. As a subtenant to the franchisor, the franchisee would be 100% responsible, along with the franchisor, so why not sign the Head Lease yourself? A franchisee subleasing from a franchisor receives no extra protection or benefit.

How will my site(s) ultimately be approved or denied?

Most franchisors will provide a checklist in advance to be completed on various sites to determine their potential. Desired criteria would include traffic count, demographics, etc. However, not all franchisors will send someone from their head office to negotiate or personally visit your city or site. This may be due to a lack of time, money, and/or staff necessary to complete this work.

Will a real estate agent or broker be involved in the leasing process? There are most commonly two types of agents - the listing or inside agent and the outside agent. The listing agent is the one who has his/her name on the "For Lease" sign on the building. This agent's job is to get the landlord the best deal possible (the highest rent, most deposit etc.). The outside agent may or may not be working in the tenant's best interest. Some franchisors may match their franchisees up with local brokers who find a location and do the deal but ultimately get handsomely rewarded with a commission check from the landlord. In this case, we have a question for you - who is the agent really trying to please – the tenant or the landlord?
Will the franchisee have final control or say over the location and lease terms? Most franchisors will defer to a franchisee's wishes when it comes to choosing between two or three sites for lease. But did you ever stop to confirm that you, the franchisee, have that right? The argument may not be even picking the best site – it might be you trying to avoid a location you hate because the franchisor insists that you lease there. The franchisee is the one taking the risk, signing the lease and paying the rent – make sure you have the power of veto when it comes to site selection.
For a copy of our free CD, Leasing Do's & Don'ts for Franchise Tenants, please e-mail your request to JeffGrandfield@TheLeaseCoach.com.
Dale Willerton and Jeff Grandfield - The Lease Coach are Commercial Lease Consultants who work exclusively for tenants. Dale and Jeff are professional speakers and co-authors of Negotiating Commercial Leases & Renewals FOR DUMMIES (Wiley, 2013). Got a leasing question? Need help with your new lease or renewal? Call 1-800-738-9202, e-mail DaleWillerton@TheLeaseCoach.com or visit www.TheLeaseCoach.com.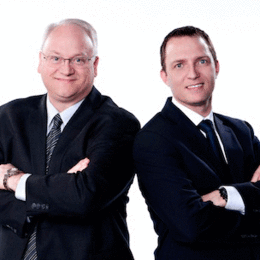 Dale Willerton and Jeff Grandfield
The Lease Coach
To Head Lease or not to Head Lease
Whoever signs the head lease maintains more control but will, conversely, spend more time on management issues including paying rent directly to the landlord and complaining about leasing issues.
Franchising in 2022: Why Some States See Record Growth and Others Lag Behind
2021 was an exceptionally strong year for franchisors and franchisees; what a comeback they made after two rollercoaster years of uncertainty across all factors on the franchise front. According to FranData and the International Franchise Association's latest Franchise Outlook, 2022 will be another good year.