Drew Wilson - President & CFO with ROCKIN' JUMP®
Drew Wilson is a Graduate of Chico State and anentrepreneur that founded several prior businesses prior to ROCKIN' JUMP®:  ACustom Kitchen Cabinet Company, Real Estate Investment Company and a ConstructionCompany. At each company Drew has been the driver of smart financial growth,effective business management, and establishing processes and procedures foroperational efficiency.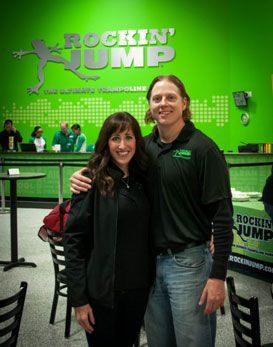 As President & CFO with ROCKIN' JUMP®, Drew hasdeveloped an effective and replicable corporate management structure for eachpark, budgets for the leasing / build out / operations of each park, andguidelines for assembling the best construction team possible to build andprepare each new park for opening to the public. Today, Drew is focused on thefuture of ROCKIN' JUMP:  franchising, new park development, marketingand ensuring each location remains financially viable while providing valueoriented family entertainment.
Tell us about the ROCKIN' JUMP concept.


Launched in 2010, ROCKIN' JUMP® is The Ultimate Trampoline Park®and franchise, featuring: A massive main jump arena, a dodge ball arena, foampits, basketball dunk zone, AeroBall, an X-Beam battle pit and a café withcomfortable seating. ROCKIN' JUMP blends fun with fitness in a Safe. Clean.Fun.™ environment. In fact, we are the only indoor activity arena businesswe're aware of with an industry leading & trademarked safety program, whichwe call JumpSafe®. Our parks are typically "THE" destination for birthdayparties – for kids and adults who are young at heart. Birthday parties benefitfrom private party rooms and a dedicated party host staff member. ROCKIN' JUMPis based in Pleasanton, CA with 4 corporate locations in the state and 27 franchiselocations in development worldwide.



How and when did you become involved with ROCKIN' JUMP?

My wife Sue and I startedthe business with our friends Marc and Shelly Collopy. The idea came tofruition after Marc and Shelly took their 4 kids to a local trampoline park.The saw how much more fun the experience could have been and realized that,done right, this kind of quality, active entertainment would be in high demandby families in the San Francisco Bay Area. So we decided to create our ownbrand and approach.



What are some of the advantages in being a ROCKIN' JUMP franchisee?

Our proven operational systems – including ourJumpSafe® safetyprogram, cloud based proprietary e-waiver management system which is fullyintegrated into our online reservations and point of sale system, automatedcash management and online employee scheduling platform.
The strong support and true sense of collaboration a franchiseewill experience working with us. We also offer one of the most comprehensivetraining programs in the industry.
We offer great children's entertainment and fitness for a muchbroader age group than most family/children focused businesses. The best partis that it's Fitness Disguised as Fun – kids don't realize what a great workoutthey're getting, but their parents do.
Our focus on Safe.Clean.Fun.® for everyone, which ensures safe playfor all guests and gives families a great reason to keep coming back.
Our unique marketing recipe for driving guests to our parks – verygrass roots focused and involves giving back a considerable amount of money tolocal communities.
Our brand – what can I say, kids love the frog. We hand out a lotof small branded items and we find kids wearing them all over town.
Lastly, and most importantly, our Culture. We've gone to great lengthsto define who we are, how we act internally and toward our guests, and whateach guest experience should look like through our positive cultural prism.It's the essence of what will continue to set us apart from our competition,and a standard we will hold each of our franchisees to. It will be thefoundation of their success.



Who is your ideal franchisee

Whether it be an individual or a couple or a group of investors, it is ideal (but not required) when the following skill sets are present within the ownership/operating team:

Prior experience running a business (large or small) at a Director/VP/Executive level – big picture thinking
Experience with managing hourly employees
Strong desire to work with kids and families
Affinity for an active lifestyle and encouraging others to do so
Ability tounderstand a Profit and Loss Statement and Balance Sheet ; basic businessfinancial management skills
Consumer marketing experience
The ability todelegate and build a team that's empowered to get things done and takeownership of their set of responsibilities



Tell us a little about the Trampoline Park Market?

Lately, it's booming. Parks are opening up throughoutthe country and the world. Now is the time to get involved, as franchise rightsfor major metro areas are beginning to be bought up. Most parks are earninggreat revenues and profits. Most of our competitors' trampoline parks are verylarge – like 25,000+ sq. ft. ROCKIN' JUMP prefers to keep our parks smaller –around 20,000 sq. ft. This creates less overhead and maintenance and ensuresthe cost to open a park are lower than most of our competitors. We have not hadto sacrifice any quality or entertainment options with this size of park.
There have also been some concerns about safety attrampoline parks, and a few states are considering legislation to set standardsfor safety and operations. As a founding member of the InternationalAssociation of Trampoline Parks, ROCKIN' JUMP's owners have played an importantrole in setting safety and operational standards for trampoline parks that willlikely be used by legislators to set state wide standards. As an industryleader in safety, we are not concerned that potential legislation will impactour business negatively.



What are some of the greatest lessons you've learned in growing this franchise?

It takes a lot of time, money and paperwork to getregistered to sell franchises in each state in the USA
Getting our business model reviewed and pre-approvedby the Small Business Administration has helped streamline the process ofobtaining bank financing for our franchisees
The importance of investing in our staff and trainingthem appropriately can never be underestimated



Do you have a mentor and is there someone you use for inspiration?

I've had the privilege of speaking with the owners ofa number of large franchises, and they've given me invaluable advice on how togrow our company steadily and effectively. The key is investing the time andmoney up front to be well organized, capitalized and having all of our legal"ducks in a row", so to speak.



What advice do you have for someone looking to acquire a Franchise?

Make sure you have a strong understanding for what afranchisor will do to support you both before and after opening your franchisebusiness.
Talk to their franchisees to ensure they are pleasedwith their investment and the support they're receiving from the franchisor.
Just because you don't have enough money to get into ahigher investment level franchise doesn't mean you can't get into that franchise.Most higher cost franchises are likely to yield higher annual revenues and netincomes. Find investors and/or partners to share the risk and operatingresponsibilities if you really love a franchise concept but can't afford it onyour own.



In your opinion, why do you think that ROCKIN' JUMP would be a great opportunity for someone?

We aren't the biggest, nor do we care if we are. Butwe are the best at operating safe and effectively run parks, with a greatreputation for quality, cleanliness and high customer satisfaction levels.
Our franchisees will get better support from ourcorporate team than any other franchise in our segment. We provide a dedicatedproject manager to help every new franchisee get their park open, plus a hostof preferred vendors and assistance with finding the right location,negotiating a lease and designing their park.