Doc Popcorn & Dippin' Dots Join Forces to Open Co-Branded Franchises in Malls Nationwide
DENVER – Building off their popularity in malls across the country, international popcorn franchise Doc Popcorn and frozen treat retailer Dippin' Dots are actively seeking franchise partners to open co-branded units in select regions of the U.S. with pre-approved mall locations in five markets. Doc Popcorn and Dippin' Dots are also looking for franchise partners to help develop the co-branded concept in nine other markets as well.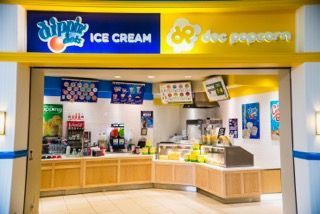 Doc Popcorn is the world's largest popcorn franchise with more than 100 locations around the globe, and its sister brand Dippin' Dots is the franchisor of flash-frozen ice cream and other frozen treats. The two have partnered to open 13 successful co-branded locations over the past 18 months, satisfying shoppers' increasing snacking habits. By offering both savory popcorn and sweet ice cream snack options, co-branded locations are enjoying balanced earnings year round as they keep pace with how Americans eat.
The first dual-branded franchise opened to embracing fans at the Battlefield Mall in Springfield, Mo., in April 2015 followed by the first co-branded kiosk at the South Premium Outlets mall in Las Vegas with additional co-branded units opening in Florida, Illinois, Minnesota, New Mexico, Utah and Wisconsin.
The new dual-concept kiosks give mall-goers the opportunity to satisfy any sweet or savory snack craving with the offerings of Doc Popcorn's fresh-popped, kettle-cooked popcorn and Dippin' Dots' iconic flash-frozen ice cream and sundaes, floats, shakes and quakes. The new co-branded locations share the same store, counter, register and employees.
Pre-approved mall locations for qualified franchise owners to open a co-brand kiosk exist in:
"Our co-branded locations have great opportunities for success with our unique mix of sweet and savory offerings," said Doc Popcorn Co-Founder Rob Israel. "The synergy of savory popcorn and sweet ice cream treats with the dual branded model offers balanced revenue streams for all seasons throughout the year. We're committed to finding business savvy franchise partners in these areas to expand our footprint."
Additional development expansion efforts will focus on malls in these areas:
"The two snacks complement each other and perform well in the same space," Israel continued. "Consumers are embracing the combination of offerings. Initial response to Doc Popcorn & Dippin' Dots locations has been fantastic and we look forward to continuing the momentum across the country."
Interested entrepreneurs should visit docpopcorn.com or dippindots.com or call 866-599-9744 for more information.
About Doc Popcorn
Using whole grain kernels, proprietary flavor blends and other high-quality ingredients, Doc Popcorn handcrafts a wide variety of fresh-popped specialty flavors of popcorn including gluten-free and nut-free options. Doc Popcorn started franchising in 2009 and has since been recognized as one of the hottest snack franchises in the country. In 2015, Entrepreneur Magazine ranked Doc Popcorn among the "Top Food Franchises," "Top Mobile Franchises," "Top Franchises Under $50,000" and placed the company at No. 239 in its "Franchise 500," a highly-regarded list in the franchise industry. For more information, please visit www.docpopcorn.com.
About Dippin' Dots
Dippin' Dots has produced and distributed its flash frozen tiny beads of ice cream, yogurt, sherbet and flavored ice products since microbiologist Curt Jones invented the cryogenic process in 1988. Made at the company's production facility in Paducah, Ky., Dippin' Dots distributes its unique frozen products in all 50 states and 11 countries and employs nearly 200 people. For more information about the company, including franchising, please visit www.dippindots.com.