Dealing with Deposits – for Franchisee Tenants
Providing your landlord with a deposit isstandard procedure; however, getting your deposit back may become a differentmatter entirely! This, however, is your money that you will want and/or need.With franchisee tenants typically leasing the same location for an initial termof five to 10 years, it's easy to understand how paid deposits can be forgottenabout. Remember this money paid and push to have it returned.
As a franchisee tenant, it is importantthat you talk to your landlord about refunding your entire deposit as soon asyou vacate the premises. You may be afraid to bring up the subject fearing thatyour landlord may have some excuse for not giving you your deposit back (thisreasoning may or may not be true). But you can't determine if there is aproblem (and then work to solve the problem) if you don't ask before you moveout.
Most landlords don't mark their calendarwith a date to return your deposit. In fact, most landlords would be quitehappy if you never brought up the subject again. Business-owners of all typesoften contact us months after they move out and question why their landlordhasn't refunded their deposit. We usually reply by asking, "Have you asked forthe money back yet?" The answer is, typically, "No". We then begin with thebasics: you have to ask to receive.
We recommend that you ask your propertymanager about the landlord's process for refunding deposits three or four monthsbefore your lease expires and ask these questions:
Doesthe landlord require a letter or an invoice?
Onthe last day of the lease, will there be an exit viewing and walk-throughof the premises to ensure there is no damage?
Whatshould I do to get my full deposit back? Will I need to have the carpetscleaned and/or surrender all sets of keys?
Landlords have many reasons why they can'tor won't return your security deposit:
Youhave damaged the premises.
Youdidn't remove your leasehold improvements.
Youremoved leasehold improvements that the landlord wanted you to leavebehind.
Youowe Common Area Maintenance (CAM) charges from that year.
Youdid not pay penalties or interest for late rent charges.
Yousubletted or assigned the lease agreement without landlord consent.
Youdidn't remove your signage from the building and/or complete repairs.
Thelandlord may have whittled away at your deposit over the years for smallrental incidentals or items they have invoiced your for that you didn'tpay.
Ifyour building has been sold since you first leased, the new landlord mayclaim he doesn't have your deposit as the previous landlord never passedit along.
Ifyour landlord lost the building into receivership or had it taken over bythe mortgage holder, your new landlord won't have the deposit because hebought the property from a bank and, in this case, your deposit was longgone.
If your landlord acknowledges that he hasyour deposit, check your lease agreement. It may state the amount of time thelandlord has to refund your deposit. If not, ask for a refund within ten daysof your invoice to the landlord.
How can you get your deposit back indifficult circumstances? After you invoice the landlord in writing (keep a copyof your letter or your e-mail sent), call the landlord's accounting departmentto ask how it plans to handle the return of your deposit. You may likely hearone of these two responses:
Yourdeposit was applied to one of the previously-listed points and you willreceive a statement of account (meaning that you will still owe money tothe landlord).
Thelandlord has a cash flow problem and can't return your deposit yet.
After you know the reason for the delay,you have numerous options on how to get your deposit back from the landlord:
Waituntil any repairs are completed and for your landlord to determine thetotal cost of these repairs. You may receive a statement of account andany monies due at that time – if any money is left.
Obtaina legally enforceable payment plan from the landlord (if the problemresults from a landlord's low or no cash flow). Getting your money backover a period of time is better than getting no money back at all.
Lawyerup. This process could be long, drawn-out, and expensive if the mattereventually goes to court.
Filea small claims action against the landlord (depending on thejurisdiction).
When you sell (or buy) a business, thelandlord can either retain the tenant's deposit and apply it to the account forthe new tenant or refund your deposit and collect a new deposit from a newtenant when the lease is assigned. Most landlords have a policy about thesetransfer situations. You probably won't be in a position to dictate to yourlandlord which of these ways they'll use to handle the matter, but there's noharm in asking when you make the lease assignment application (if you have apreference).
The best way to handle the situation is toask the landlord in advance which way they'd handle a deposit and thenstructure you purchase agreement accordingly. If you can't do that, make yourpurchase agreement flexible enough to cover whichever way the landlord wants toapply or refund the deposit.
For a copy of our free CD, Leasing Do's & Don'ts for Franchise Tenants, please e-mail yourrequest to DaleWillerton@TheLeaseCoach.com.
Dale Willerton and Jeff Grandfield - The Lease Coach are CommercialLease Consultants who work exclusively for tenants. Dale and Jeff are professionalspeakers and co-authors of Negotiating Commercial Leases & Renewals ForDummies (Wiley, 2013). Got a leasing question? Need help with your new lease orrenewal? Call 1-800-738-9202, e-mail DaleWillerton@TheLeaseCoach.com or visit
www.TheLeaseCoach.com
.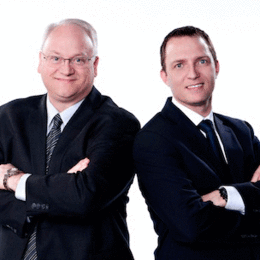 Dale Willerton and Jeff Grandfield
The Lease Coach