CruiseOne® Recognizes Franchisee with National Business Award In Celebration of Women's History Month
CruiseOne® Honors Margaret Miner with OPAL Award
for leadership and community service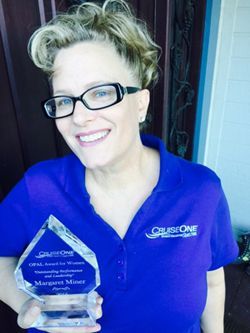 Fort Lauderdale, Fla.  (March 13, 2015) – For the third year in a row, the leading home-basedtravel franchise CruiseOne® celebrates Women's History Month inMarch by  honoring a female CruiseOne Vacation Specialist and FranchiseOwner with the OPAL Award for Women. The company has named Pleasant Hill,Calif. resident Margaret Miner the 2015 recipient of this prestigious award.
The OPALAward recognizes a female franchise owner who demonstrates OutstandingPerformance And Leadership. The honoree is active in community and civicorganizations, is among CruiseOne's top selling agents and has exhibited strongbusiness skills. Miner will receive three months of waived fees and a $100 giftcertificate.
"Margaret hasan impressive resume of community service and has used her franchise as aplatform to raise awareness for worthy causes and to help others," said TimCourtney, vice president of franchise development at CruiseOne. "She embodieswhat it means to be an OPAL Award winner and we are pleased to recognize herwith this honor."
Miner has beena CruiseOne franchise owner for two years with a mission of helping others tolive fully, giving back to the community and assisting others to travel often.Miner's community and civic involvement includes membership in her localChamber of Commerce and sponsorship of community events, organizing grouptravel for residents of Pleasant Hill Senior Center and hosting fundraisingcruises benefiting animal shelters and sanctuaries. In addition, in 2014 shewas named Chairwoman of the AHA! Movement Foundation, an anti-hazing awarenessmovement for teenagers and college students.
CruiseOne iscommitted to being "Rich in Diversity" and empowers all owners, agents andemployees to reach their highest potential by leveraging their broad range oftalent, experiences, personalities, viewpoints and ideas to generate businessgrowth.
For moreinformation on owning a CruiseOne travel franchise, please visit www.cruiseonefranchise.com or call 888-249-8235.
About CruiseOne®
In operationsince 1992, the home-based travel franchise CruiseOne® is ranked inthe top one percent of all franchises worldwide and is a member of theInternational Franchise Association. As part of World Travel Holdings, theworld's largest cruise agency and award-winning leisure travel company,CruiseOne franchisees are able to offer their customers the lowest possiblepricing on vacations with its 100 percent "Best Price and SatisfactionGuarantee." CruiseOne has received partner of the year, a top-ranking status,by all the major cruise lines including Norwegian Cruise Line®,Royal Caribbean International®, Celebrity Cruises® andCarnival® Cruise Lines. For more information on CruiseOne, visit www.CruiseOneFranchise.com.  Like CruiseOne on Facebook at www.facebook.com/CruiseOneFranchise, and follow us on Twitter at@CruiseOneBiz.
###
PR Contact:
Rachel Shapiro, Public Relations Specialist
CruiseOne
954-958-3664
RShapiro@Wth.com
Massage Envy Franchise Business Lands PGA Partnership
Massage Envy has just announced it has entered into a partnership with the PGA TOUR that will span four years. The leading therapeutic massage and skincare services franchise business will be an official sponsor of the global professional golf showcase.