Concession Nation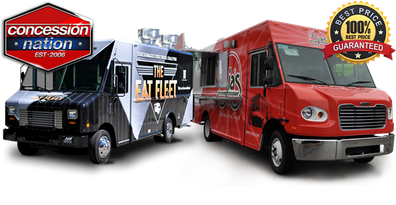 About Us
Concession Nation is the INDUSTRY LEADER in building custom made food trucks and concession trailers.
Since we opened our doors in February 2006, we've built over 1,500 customized food trucks and trailers for clients worldwide.
Our experience and expertise are second to none.
We are a one stop shop
This is what separates us from the competing concession trailer and catering truck manufacturers.  Our state of the art 30,000 square foot facility in a 2 acre lot in Deerfield Beach, FL allows us to do everything in-house. Our graphic design team will help you create a unique and creative look of your mobile kitchen, using vibrant colors and captivating images.  We do the wrapping ourselves, so we guarantee a beautiful finish that will make your custom food truck or concession trailer stand out and capture the attention of customers.
We can deliver anywhere in the world
As concession trailer builders and food truck dealers, we've exported food trucks and trailers everywhere in the world: Latin America, Asia, Africa, Europe, Dubai and Saudi Arabia. We can deliver your mobile kitchen vehicle anywhere and ensure you a stress free process.
Whether you are an entrepreneur setting out on a new adventure, a restaurant owner looking to add excitement to your location or an institution with a desire to enhance the eating experience on your campus, you can rely on us to custom design every feature of your food truck or concession trailer and exceed your expectations of what a mobile kitchen can be.  We've custom made food trucks and trailers for all kinds of locations:
Hotels, Resorts and Casinos
Military Bases
NFL teams and College football teams
University campuses
Churches and non-profit organizations
Franchises
Corporations
We take great pride in building food trucks and trailers that are beautiful to the eye, exquisite on the inside and durable for years to come.  This is why we only work with high quality materials and our experienced team follows strict protocols to ensure your mobile kitchen will meet every code and regulation no matter where you are.
NSF approved equipment and fixtures
stainless steel
name brand appliances
pex piping plumbing
LP equipment tested and certified by a state licensed 3rd party LP company.
100% health inspections approvals

Over the last decade, the mobile kitchen industry has been revolutionized
We are proud to be a part of the tremendous growth of the mobile food business, which reached $1.2 Billion in revenues in 2015. With over 12% annual growth since 2010, it has easily outperformed the revenue growth of traditional brick and mortar restaurants. (Ibis World)
We are thrilled by the success of many of our clients and take personal pride in knowing we helped shape and enhance their creative vision.  Every food truck or concession trailer that rolls out of our shop is a client's dream we helped make a reality.
We are passionate to make the best, highest quality food truck or concession trailer worthy of the passion and enthusiasm of our clients. You are the ones who've transformed the eating experience for millions of Americans and we are honored every time you trust us to make your wild culinary fantasies of a more exciting, communal eating a reality.
If you are thinking about buying a custom made food truck or concession trailer please visit us in beautiful South Florida and see for yourself the quality of production that is rolling out of our shop. We look forward to doing business with you, and will do what it takes to make your custom food truck conversion happen!