Before You Sign … Six Questions You Must Ask Your Franchisor before Leasing Commercial Space
A franchisor cannot – and will not – do everything for a prospective franchisee. While franchisors will often provide excellent name recognition, franchisee support, and training, they can leave some matters up to their franchisees to deal with – much to the surprise of the franchisee! While researching the many excellent franchise systems available, be prepared to ask the following questions to better ensure that you – and your investment – are better protected.
1. What role(s) will the franchisor and franchisee play in the site selection and leasing process? Due to a lack of time, money, and/or support staff, some franchisors truly provide next to no real estate/leasing help at all. Therefore, franchisors may refer you to a real estate agent who may care more about his/her commission than your long-term viability.
2. Will the franchisor sign the Head Lease and sublet the space to the franchisee – or will it be the franchisee alone who signs the lease? Whichever party signs the Head Lease will assume the responsibility for the lease. Most franchisors want to avoid liability if the franchisee fails; therefore, more often than not, the franchisee solely signs the Head Lease. Ideally, the franchisee would want to sign the Head Lease to retain as much control as possible. As a subtenant to the franchisor, the franchisee would be 100% responsible, along with the franchisor, so why not sign the Head Lease yourself? A franchisee subleasing from a franchisor receives no extra protection or benefit.
3. Will the franchisee have final control or say over the location and lease terms? When choosing between two or three sites for lease, most franchisors will defer to a franchisee's wishes. Carefully evaluate each possible site – even if your franchisor insists that you lease a certain location. Remember, that, as a franchisee, you are assuming more of the risk by signing the lease and paying the rent. If a franchisee fails for whatever reason, a franchisor can simply repackage the site and offer it to sale to another franchisee.
4. What if we can't find a good location or reasonable lease deal? We remember speaking with a young couple who had eagerly signed up with a franchise concept and could identify a number of local community plazas that they felt would be perfect for them. On their request, we looked into each of these possible sites only to discover that all of the plazas were achieving rental rates 25-30% above the franchisor's maximum recommended rental rate. Regrettably, this couple could not afford these proposed rental rates, chose to walk away from the franchise opportunity, and therefore forfeited their already paid hefty franchise fees because the right space at the right price was not available.
5. Will a real estate agent or broker be involved in the leasing process? Franchisees need to understand that there are two types of agents - the listing or inside agent (who represents the landlord) and the outside agent (who represents the tenant). You are not required to work with an outside agent and we often recommend that the listing agent is the one you want to contact as he/she will have his/her name on the "For Lease" sign on the building. Be aware that this agent may appear to be working for you (by meeting with you, showing you available spaces, and answering your questions); however, this agent is, in fact, working for the landlord and can receive a healthy bonus or commission check from the landlord for signed lease deals. Franchisors located in other cities match their franchisees up with local brokers who can find a location and do the deal but receive a similar commission.
6. Who is responsible for reviewing all lease documents? Franchisees often turn to a lawyer to review their lease documents – thinking that this is the only option. Lease documents are legal documents so gaining a legal opinion is often unnecessary, futile, and expensive. Your better choice is a professional Lease Consultant who can review the lease document for you as well as negotiate the terms and clauses on your behalf to ensure that you get the best lease deal possible.
For a copy of our free CD, Leasing Do's & Don'ts for Franchise Tenants, please e-mail your request to JeffGrandfield@TheLeaseCoach.com.
Dale Willerton and Jeff Grandfield - The Lease Coach are Commercial Lease Consultants who work exclusively for tenants. Dale and Jeff are professional speakers and co-authors of Negotiating Commercial Leases & Renewals FOR DUMMIES (Wiley, 2013). Got a leasing question? Need help with your new lease or renewal? Call 1-800-738-9202, e-mail DaleWillerton@TheLeaseCoach.com or visit www.TheLeaseCoach.com.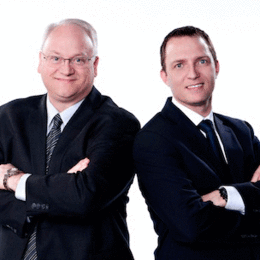 Dale Willerton and Jeff Grandfield
The Lease Coach
How Do You Franchise an Internet Marketing Business?
Top internet marketing franchises can ride the crest of these new, innovative ways and that is why businesses are turning to them to handle their digital marketing campaigns. To learn more about internet marketing franchises, please contact us.