About Christy Wilson Delk
Christy Wilson Delk knows first-hand what it takes to be a successful franchised business owner.
In 1998, Christy opened a Kids 'R' Kids Academy franchise after selling her home and cashing out her 401k for the down-payment on a $1.7 million-dollar SBA loan. Over the next fifteen years, she grew and expanded her franchise into one of the largest in the early childhood education segment before a very successful multi-million dollar exit in 2012.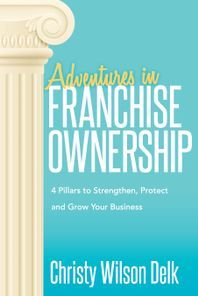 Now, a full-time business professor, Christy has turned her attention to helping new and prospective franchisees achieve the level of success they want and deserve. Through her talks and articles, based on her new book, Adventures in Franchise Ownership - 4 Pillars to Strengthen, Protect and Grow Your Business, Christy's straightforward and humorous advice, along with over 16 other top performing franchisees, will surely empower you to Be Your Own Boss - and guide you through the ownership process.
Contact Number: 407-399-5554
Recent Posts by Christy Wilson Delk