A Leader in the Quick-Lube Market, SpeeDee's Commitment to Performance is Driving Franchise Growth in 2019
How the automotive maintenance and repair service franchise's ability to deliver fast service done right resonates with customers and creates a lucrative business enterprise for its franchisees.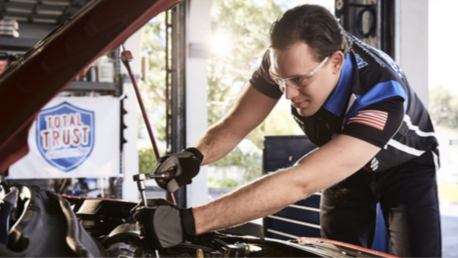 Madeline Lena 03:40 PM • 07/11/19 Industry Spotlight Staff Writer

There are 136 million vehicles on the road in the United States today, more than at any other time in history. With the average age of a vehicle at 11 years and climbing, routine maintenance and automotive services are of great need to consumers today, which has catapulted the annual earnings of the oil change industry to an estimated $6 billion as a result. Service demand aside, automotive maintenance and repair services in today's world must answer to the demand for fast, accurate and professional service.

SpeeDee Oil Change & Auto ServiceTM has consistently tapped into this consumer need and has grown from a single store to more than 150 locations in nearly 40 years in business. While customers have many options for oil changes or vehicle services, no one competes with SpeeDee when it comes to delivering fast, trustworthy service done right with highly-trained technicians.
Founded in 1980, the automotive maintenance and repair service franchise was one of the early innovators in the quick-lube industry. Its business model ensures top-notch, transparent service, delivering a strong value proposition to consumers while simultaneously putting franchisees in an optimal position for success.
"Car owners today are looking for convenience and fast services wherever they can find them," said Ralph Yarusso, SpeeDee's Chief Development Officer. "The automotive maintenance and repair service industry is optimally situated to meet these very needs and SpeeDee is leading the way because we don't sacrifice quality in the process."
The brand attributes its longevity and track record of consistent success to a focus on customer satisfaction that drives customer loyalty, trust and consistent revenue to benefit its franchise partners for the long term. To continue building strong customer relationships based on reliability and professional service, SpeeDee is seeking qualified franchise partners, particularly in northern California, Texas, Louisiana and New England, to expand the brand by more than 10 new locations in 2019.
Because SpeeDee locations feature streamlined operations and employ certified technicians, the potential for a top-performing franchise location is high. The EBITDAR average earnings for the top 50% of SpeeDee centers is $233,427, which amounts to over 20% of sales.
"SpeeDee combines a fast-lube service along with full auto repair to provide customers with what they need when they need it, something other operators cannot claim," Yarusso said. "SpeeDee's best-in-business service also comes with the Total Trust GuaranteeTM which means total transparency for our customers. It's a commitment that guides our operational and training systems to ensure we exceed our customers' expectations time and again. This proven approach has helped us drive high customer retention rates throughout our franchise system."
Operating independently from any major oil company frees SpeeDee from the confines of any specific products or services, unlike its competitors. This allows SpeeDee franchisees to provide their customer base with the best the market has to offer and serve as a true partner.
The brand's commitment to excellence extends beyond its customers to its franchisees, as well; its management and development teams, training department and field support staff are second- to-none. This extensive, franchisor-provided start-up assistance and ongoing training on all things automotive means that interested entrepreneurs need not have any formal automotive service industry experience to become a SpeeDee franchisee.
"Our franchisees come from almost every walk of life and background imaginable," Yarusso said. "If you like people, have the capacity to learn, are willing to follow proven systems and have the motivation to own your own business, you have what it takes to find success with SpeeDee."
Every SpeeDee business is subject to rigorous pre-opening and ongoing training to achieve Performance-Certified status, meaning they are capable of reliably delivering the brand's customer-centric Total Trust Guarantee that ensures full transparency throughout the duration of every service. Training is conducted out of the brand's corporate headquarters as well as in the field, and franchisees have 24/7 access to an online catalog of courses and webinars. In addition to servicing a wide variety of its franchisees' marketing and advertising needs, SpeeDee's experienced marketing department monitors and analyzes the performance of the system's marketing efforts to provide ideas and support where needed.
By putting people first and recognizing the value and importance of transparency—a rarity in today's world—SpeeDee has become a trusted partner to customers and franchisees alike. SpeeDee is proud to remain a standout industry leader after nearly 40 years of operation and will continue to evolve its perennially in-demand offering for years to come.
Start-up costs for a SpeeDee Oil Change & Auto Service franchise range from $197,305 to $537,970 with a $35,000 franchise fee. SpeeDee also offers veterans and first responders a more substantial royalty rebate for their first two years of business. To learn more about available opportunities throughout the U.S. and Mexico, visit https://www.speedeeoil.com/franchise-information/.
The Top Types of Franchises to Own in 2019
There are several factors we can examine that are independent of the prospective franchisee that can determine which are the top franchises to own. Here is a list of the top franchises to own in 2019.
7 Must-Dos to Set Your Franchise Up for Success
Investing in a franchise is not a decision to take lightly. Whether you're a first-time franchisee or have owned other franchises before, this list of tasks is one you should rely on heavily as you launch your franchise.